Meet The Final Star Of 'Star Wars Rebels,' The Pilot Hera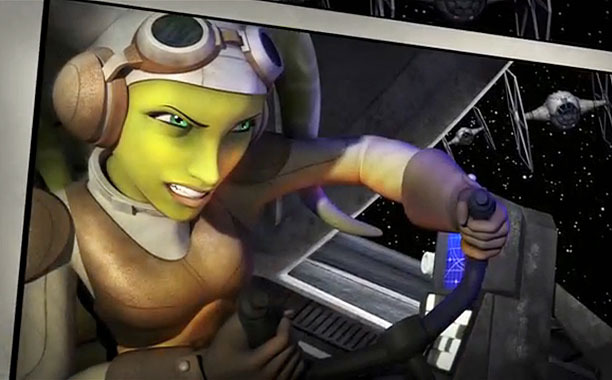 The seventh and final main character of Star Wars Rebels has been revealed. Her name is Hera, voiced by Vanessa Marshall, and she's the pilot of the show's primary spaceship, the Ghost. That makes her the de facto leader of the rag-tag band of rebels. In her big reveal video, which you can watch below, you learn about her as well as the dynamic that'll be the throughline for the entire show.
Entertainment Weekly has the video reveal of Hera.
Like the rest of this show, Hera's look and heritage is derived from Star Wars mythology. She's a Twi'lek, a race that appears a few times in the original films, the most prominent place being Jabba's Palace in Return of the Jedi. Jabba's slave Oola, as well as his right hand man Bib Fortuna, are both Twi'lek. In the prequels, a Jedi master named Aayla Secura is Twi'lek.
So the Ghost, the main vehicle for Rebels, is Hera's, and her team includes Kanan, Ezra, Zeb, Sabine and Chopper. They're hunted by the Inquisitor. And so the main players of Star Wars Rebels have been revealed.
The show premieres this summer with a one hour special on Disney Channel and will then air regularly on Disney XD in the Fall.