Norman Reedus And Djimon Hounsou Cast In High Concept Sci-Fi From 'Walking Dead' Creator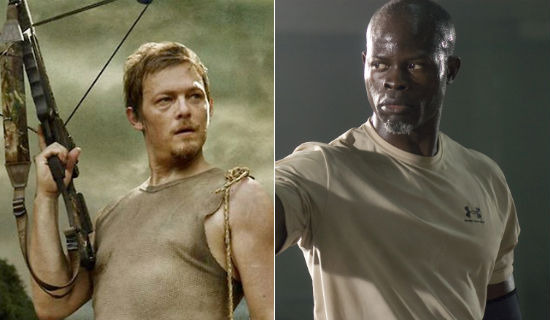 After becoming a fan favorite on AMC's horror hit The Walking Dead, it was only a matter of time before Norman Reedus hit the big screen in a big way. Turns out, it'll happen with the help of the man who made him a star in the first place.
Reedus is joining Djimon Hounsou in a sci-fi thriller called Air, which will be produced by Walking Dead creator Robert Kirkman. Christian Cantamessa, who co-wrote Red Dead Redemption and GTA: San Andreas for Rockstar, will make his directorial debut from a script he co-wrote with Chris Pasetto.
Read the high concept idea behind Air below.
The Hollywood Reporter broke the news of this deal. Here's the concept behind Air, which Sony is in negotiations to acquire:
The story is set in an underground cryogenic facility after a nuclear fall-out renders the atmosphere unbreathable. Air centers on its two custodial workers (Reedus, Hounsou) who take care of the cryogenically sleeping personnel that are to re-establish society but they struggle to preserve their own sanity and lives while maintaining the extremely fragile environment of the last livable place on earth.
Very cool concept, and both Reedus and Hounsou fit that subtly badass everyman mold which sounds necessary in this story. Personally though, I'm more interested in talents from the comic book (Kirkman) and video game (Cantamessa) worlds coming to Hollywood. You can probably count on one hand the number of comic book writers, and even less –  video game writers – who've made successful transitions the film industry. These guys definitely have that potential.
As for Reedus, I'm well-aware he's done a ton of movies, most notably The Boondock Saints, but The Walking Dead made him into a headlining sex symbol and he's yet to exploit that new popularity. Air could be the one.
Air sounds extremely promising, what do you think?