Kevin Hart And Ice Cube Hop On For Another 'Ride Along'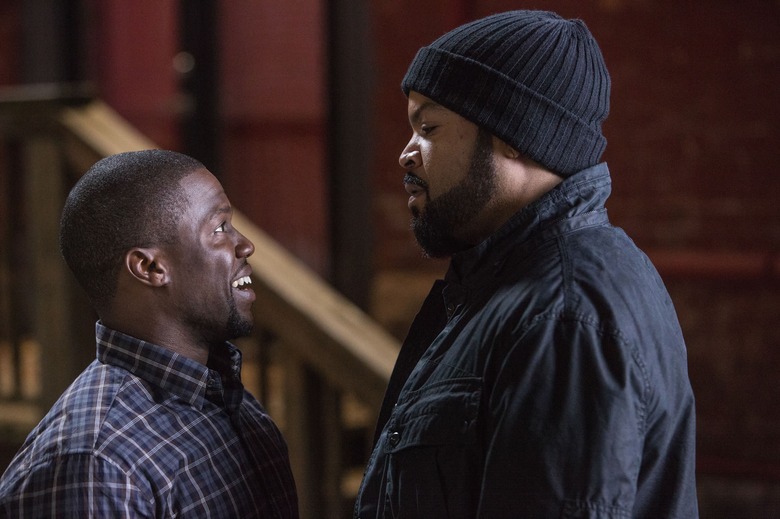 Universal was so confident in the buddy cop comedy Ride Along that it put the sequel in development way back in April – nine months before the first film was even scheduled to premiere. Now that the movie has actually gone on to set a January opening record, it looks like their faith is paying off.
The studio has set Ride Along director Tim Story to return for the sequel, and is working on deals with stars Ice Cube and Kevin Hart to reprise their roles. Also coming back are producers Will Packer and Matt Alvarez, and writers Phil Hay and Matt Manfredi. More details on the next installment after the jump.
The first film centered around aspiring cop Ben (Hart) and his girlfriend's intimidating police officer brother James (Cube). In an effort to scare Ben off, James takes Ben on the weirdest, wildest ride-along of their lives.
The first Ride Along had the biggest Martin Luther King Jr. weekend opening in history, raking in $41.6 million over three days. As of right now, it's earned $120 million worldwide to become the second-highest grossing picture of the year so far. That's almost five times its production budget, which was a relatively modest $25 million.
2014 is shaping up to be a fantastic year for Hart, who is also coming off of the '80s remake About Last Night. It was the best reviewed wide release last weekend and came in second at the box office, behind The Lego Movie. Coming up next for him is Think Like a Man Too, the sequel to 2012's highly successful ensemble romcom. 2015 is looking up for him as well, with the comedies The Wedding Ringer and Get Hard.