'Game Of Thrones' Season 4 Trailer: Pray For Vengeance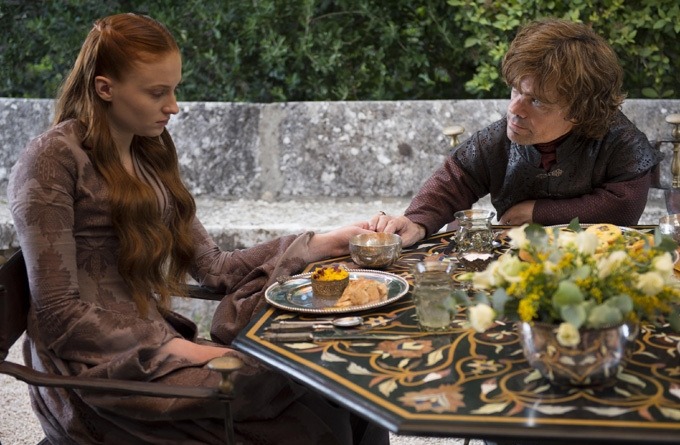 Given all the awful stuff that's happened in the first three seasons of Game of Thrones, it shouldn't be a surprise that some Westerosi are thirsty for revenge. Indeed, just about every character in the latest promo seems to be seeking vengeance for one wrong or another, from little Arya Stark (Maisie Williams) to Queen Cersei (Lena Headey) to newcomer Oberyn Martell (Pedro Pascal).
Unfortunately, as Tyrion (Peter Dinklage) so rightly observes, "if you want justice, you've come to the wrong place." Somehow, we suspect things are going to get so much worse for our favorite characters before they get better. Watch the latest Season 4 trailer after the jump.
Last season, Daenerys' (Emilia Clarke) snappy retort to the saying "valar morghulis" — "all men must die" — was "but we are not men." And yet it's clear that no person of any gender is safe right now. As if all this deadly inter-clan squabbling weren't bad enough, the white walkers appear to be continuing their march south.
As the events of last season wiped out a good chunk of the cast, a bunch of new characters are coming in to take their place. Those include Oberyn, Ellaria Sand (Indira Varma), Mace Tyrell (Roger Ashton-Griffiths), Tycho Nestorime (Mark Gatiss), Styr the Magnar of Thenn (Yuri Kolokolnikov), the Three-Eyed Crow (Struan Rodger), and a Child of the Forest (Octavia Alexandru).
Additionally, not all of the new faces will belong to new characters. Michiel Huisman replaces Ed Skrein as Daario Naharis, Dean-Charles Chapman takes over for Callum Wharry as Tommen Baratheon, and Hafþór Júlíus Björnsson subs in for Ian Whyte as Gregor Clegane.
Game of Thrones Season 4 debuts April 6.