'Gravity', '12 Years A Slave' Are Big Winners At 2014 BAFTA Awards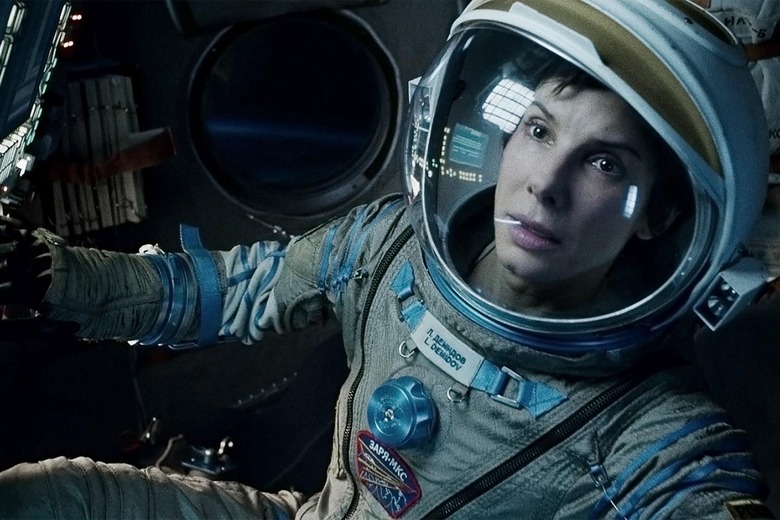 The British Academy of Film and Television Arts unveiled the winners of their 2014 awards this weekend, just two weeks ahead of the Academy Awards. The biggest winner of the night was Gravity, which took home six awards, but Best Film remained out of Alfonso Cuarón's grasp. That prize went instead to 12 Years a Slave, which secured only one other win last night, for lead actor Chiwetel Ejiofor.
Elsewhere, American Hustle, widely considered this season's other Best Picture frontrunner, nabbed three prizes including one for supporting actress Jennifer Lawrence. The corresponding male category offered perhaps the biggest surprise of the night — a win for Captain Phillips' Barkhad Abdi, who beat out the likes of Bradley Cooper and Michael Fassbender. 
Hit the jump for the list of winners.
12 Years a SlaveAmerican HustleCaptain PhillipsGravityPhilomenaOUTSTANDING BRITISH FILMGravityMandela: Long Walk to FreedomPhilomenaRushSaving Mr. BanksThe Selfish GiantOUTSTANDING DEBUT BY A BRITISH WRITER, DIRECTOR OR PRODUCERKieran Evans (Director/Writer), Kelly + Victor
Colin Carberry (Writer), Glenn Patterson (Writer) Good Vibrations
Kelly Marcel (Writer), Saving Mr. Banks
Paul Wright (Director/Writer), Polly Stokes (Producer), For Those in Peril
Scott Graham (Director/Writer), Shell
DIRECTORAlfonso Cuarón, Gravity
Steve McQueen, 12 Years a Slave
David O. Russell, American Hustle
Paul Greengrass, Captain Phillips
Martin Scorsese, The Wolf of Wall Street
ORIGINAL SCREENPLAYEric Warren Singer, David O. Russell, American Hustle
Woody Allen, Blue Jasmine
Alfonso Cuarón, Jonás Cuarón, Gravity
Joel Coen, Ethan Coen, Inside Llewyn Davis
Bob Nelson, Nebraska
ADAPTED SCREENPLAYSteve Coogan, Jeff Pope, Philomena
John Ridley, 12 Years a Slave
Richard LaGravenese, Behind the Candelabra
Billy Ray, Captain Phillips
Terence Winter, The Wolf of Wall Street
LEADING ACTORChiwetel Ejiofor, 12 Years a Slave
Bruce Dern, Nebraska
Christian Bale, American Hustle
Leonardo DiCaprio, The Wolf of Wall Street
Tom Hanks, Captain Phillips
LEADING ACTRESSCate Blanchett, Blue Jasmine
Amy Adams, American Hustle
Emma Thompson, Saving Mr. Banks
Judi Dench, Philomena
Sandra Bullock, Gravity
SUPPORTING ACTORBarkhad Abdi, Captain Phillips
Bradley Cooper, American Hustle
Daniel Bruhl, Rush
Matt Damon, Behind the Candelabra
Michael Fassbender, 12 Years a Slave
SUPPORTING ACTRESSJennifer Lawrence, American Hustle
Julia Roberts, August: Osage County
Lupita Nyong'o, 12 Years a Slave
Oprah Winfrey, The Butler
Sally Hawkins, Blue Jasmine
FILM NOT IN THE ENGLISH LANGUAGEThe Great BeautyThe Act of KillingBlue Is the Warmest ColourMetro ManilaWadjdaDOCUMENTARYThe Act of KillingThe Armstrong LieBlackfishTim's VermeerWe Steal Secrets: The Story of WikileaksANIMATED FILMFrozenDespicable Me 2Monsters UniversityORIGINAL MUSICGravity, Steven Price12 Years a Slave, Hans ZimmerThe Book Thief, John WilliamsCaptain Phillips, Henry JackmanSaving Mr. Banks, Thomas NewmanCINEMATOGRAPHYGravity, Emmanuel Lubezki12 Years a Slave, Sean BobbittCaptain Phillips, Barry AckroydInside Llewyn Davis, Bruno DelbonnelNebraska, Phedon PapamichaelEDITINGRush, Dan Hanley, Mike Hill12 Years a Slave, Joe WalkerCaptain Phillips, Christopher RouseGravity, Alfonso Cuarón, Mark SangerThe Wolf of Wall Street, Thelma SchoonmakerPRODUCTION DESIGNThe Great Gatsby, Catherine Martin, Beverley Dunn12 Years a Slave, Adam Stockhausen, Alice BakerAmerican Hustle, Judy Becker, Heather LoefflerBehind the Candelabra, Howard CummingsGravity, Andy Nicholson, Rosie Goodwin, Joanne WoodlardCOSTUME DESIGNThe Great Gatsby, Catherine MartinAmerican Hustle, Michael WilkinsonBehind the Candelabra, Ellen MirojnickThe Invisible Woman, Michael O'ConnorSaving Mr. Banks, Daniel OrlandiMAKE-UP & HAIRAmerican Hustle, Evelyne Noraz, Lori McCoy-BellBehind the Candelabra, Kate Biscoe, Marie LarkinThe Butler, Debra Denson, Beverly Jo Pryor, Candace NealThe Great Gatsby, Maurizio Silvi, Kerry WarnThe Hobbit: The Desolation of Smaug, Peter Swords King, Richard Taylor, Rick FindlaterSOUNDGravity, Glenn Freemantle, Skip Lievsay, Christopher Benstead, Niv Adiri, Chris MunroAll Is Lost, Richard Hymns, Steve Boeddeker, Brandon Proctor, Micah Bloomberg, Gillian ArthurCaptain Phillips, Chris Burdon, Mark Taylor, Mike Prestwood Smith, Chris Munro, Oliver TarneyInside Llewyn Davis, Peter F. Kurland, Skip Lievsay, Greg OrloffRush, Danny Hambrook, Martin Steyer, Stefan Korte, Markus Stemler, Frank KruseSPECIAL VISUAL EFFECTSGravity, Tim Webber, Chris Lawrence, David Shirk, Neil Corbould, Nikki PennyThe Hobbit: The Desolation of Smaug, Joe Letteri, Eric Saindon, David Clayton, Eric ReynoldsIron Man 3, Bryan Grill, Christopher Townsend, Guy Williams, Dan SudickPacific Rim, Hal Hickel, John Knoll, Lindy De Quattro, Nigel SumnerStar Trek Into Darkness, Ben Grossmann, Burt Dalton, Patrick Tubach, Roger GuyettBRITISH SHORT ANIMATIONSleeping With the FishesEverything I Can See From HereI Am Tom MoodyBRITISH SHORT FILMRoom 8Island QueenKeeping Up With the JonesesOrbit Ever AfterSea ViewTHE EE RISING STAR AWARD (voted for by the public)Will Poulter
Dane DeHaan
George McKay
Lupita Nyong'o
Lea Seydoux