Katharine Hepburn And Spencer Tracy's Legendary Romance Is Being Turned Into A Movie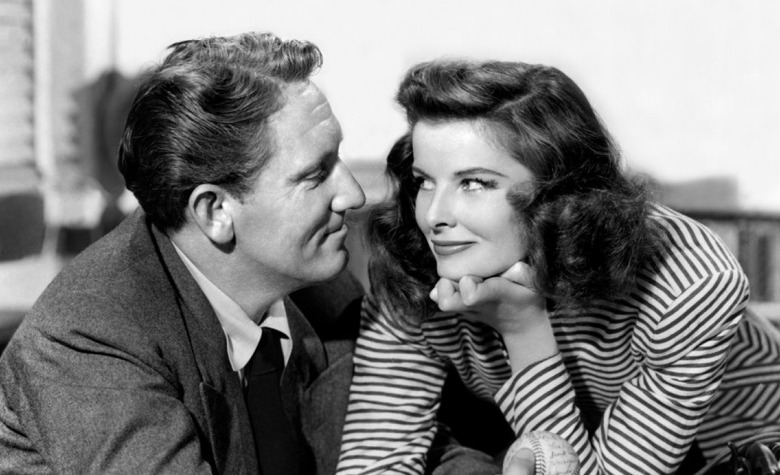 47 years after his death and 9 years after hers, Spencer Tracy and Katharine Hepburn are going to be reunited on the big screen. Permut Presentations is producing Tracy and Hepburn, a script written by David Rambo about the frequent co-stars' lengthy love affair. A director and stars are currently being sought. Hit the jump for plot details and more.
The actors' romance was an open secret in Hollywood, as he never legally divorced his wife Louise Tracy. Hepburn wouldn't even discuss her relationship with Tracy publicly until the 1980s, after Louise's death. Tracy also struggled with alcoholism and guilt. Nevertheless, Hepburn remained devoted to the troubled actor for 26 years. The pair starred in nine films together during that time.
Rambo is a playwright and screenwriter whose credits include CSI: Crime Scene Investigation and the NBC drama Revolution. Dayton worked with Hepburn numerous times toward the end of her life, producing The Man Upstairs, This Can't Be Love, Love Affair, and One Christmas. Permut is the producer of Face/Off, Charlie Bartlett, and Youth in Revolt.
Tracy and Hepburn won't be the first film to portray the iconic couple. Cate Blanchett won an Oscar in 2005 for playing Hepburn in The Aviator; Kevin O'Rourke played Tracy in the same film. However, it seems to be the first major feature focused specifically on their relationship. Tom Rowe, who is executive producing with Chris Mangano and Matthew O'Connor, said that the idea for the film came to him in the '90s when he worked with Hepburn and Dayton on This Can't Be Love.
Producers are actively looking for a director and a cast, with the intention of shooting within the next year.