Watch A Clip From Upcoming "Lost Missions" Season Of 'Star Wars: The Clone Wars'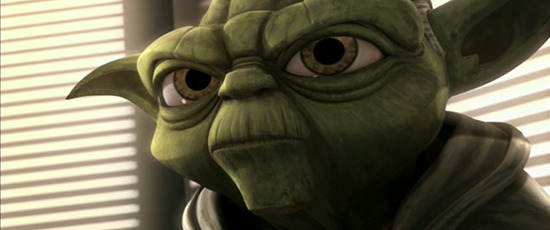 This morning brought the news that the sixth and final season of Star Wars: The Clone Wars will be released all at once to Netflix on March 7. While the show was canceled last year, producers put together this deal to finish unproduced episodes in order to answer some lingering questions. The new "season" is dubbed The Lost Missions.
At the same time, the five previous seasons of Clone Wars will be available to stream on Netflix, with a few director's cut episodes. The feature film will also show up, giving Netflix subscribers one huge package of Star Wars material.
Below, you can see a clip from one of the Lost Missions episodes.
The season as a whole will follow the aftermath of "Ahsoka's emotional exit from the Jedi order, which needs any and all Jedi and their lightsabers to deal with the growing threat of the evil Sith Lords and their apprentices."
USA Today debuted this clip, which features Yoda (voiced by Tom Kane) being visited by the spirit of Qui-Gon Jinn (Liam Neeson).