WTF: Potential Oscar Spoiler Leaks As Academy Community Protests Security Firm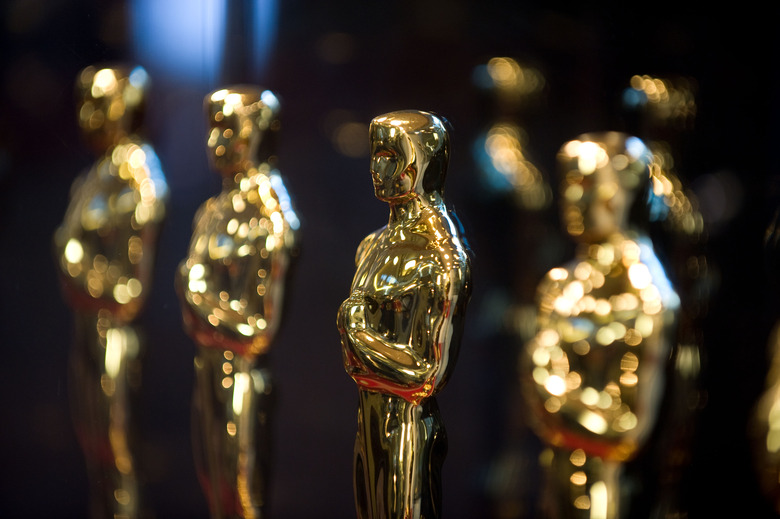 This could be the most coincidental leak of all time, the most perfectly timed viral image of all time, or just a complete misunderstanding. Regardless, on Monday a CNN program briefly showed a supposed glimpse of the plaque that will decorate the Best Actor Oscar at March 2nd's Academy Awards. Is it real? Probably not, but it's interesting because this potential spoiler happened on the same day a huge group of people protested the Oscar-nominee luncheon to call for stronger security. See the image, and read more below.
First up, here's the image from CNN via Cinemablend.
RUMOR: This image was accidentally shown on CNN may reveal Oscar's Best Actor winner. What do you think? Real? pic.twitter.com/HJouadESxn

— CinemaBlend (@CinemaBlend) February 10, 2014
That image suggests Leonardo DiCaprio will win the Oscar on March 2. The only problem is that Oscar voting is still ongoing. It ends February 25, so there's no way anyone knows who is going to win. It's possible, however, that plaques are made for all the nominees so the winner isn't revealed early. Even the engravers won't have an idea who won.
Though if not a true spoiler, what makes the above image funny is this report in the Los Angeles Times. Monday marked the Oscar Nominee luncheon and a group of "about 40 security officers and community members" protested outside the event, calling for the dismissal of Security Industry Specialists as the official Oscars security team. They believe "SIS is an irresponsible security firm that falls short of the high standards the Academy has traditionally set for the Oscars." Basically, they're saying they're bad at keeping secrets. Like, say, letting the winner — even a hint of a potential winner — leak on TV a month early. You can read more at the above link.
Though this image happening on the day of the luncheon and protest is likely coincidental, it's still highly amusing, don't you agree?