Full Length TV Trailer: Mike Judge's 'Silicon Valley'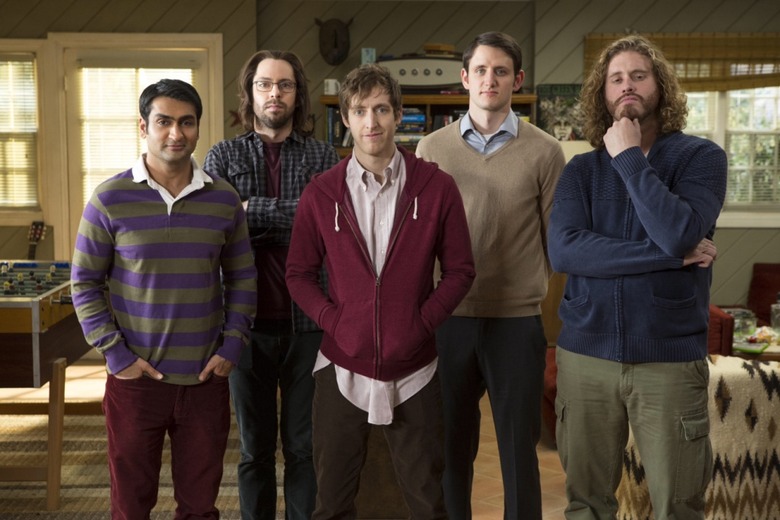 Update from Editor Peter Sciretta: HBO has released a new full length trailer for Mike Judge's new series Silicon Valley alongside a behind the scenes featurette. I have included both of those videos after the jump.
Full length trailer:
Behind the scenes featurette:
Angie's original post follows
A decade and a half after Peter Gibbons left Initech behind for good, Office Space writer-director Mike Judge is delving back into the world of computer programming with HBO's Silicon Valley.
Inspired by Judge's own time as a software engineer in the late '80s, the comedy stars Thomas Middleditch, Josh Brener, Martin Starr, and Kumail Nanjiani as a group of programmers living in a "hacker hostel" in modern-day NorCal. The guys decide to found their own startup, and then get in over their heads in the wacky world of venture capitalists, tech blogs, and dotcom millionaires. Watch the (NSFW for language) trailer after the jump.
Teaser trailer:
It's tough to get a sense of what the series will actually be like based on just a 30-second teaser, but between Judge's trademark irreverence and his talented cast (which also includes T.J. Miller, Zach Woods, Amanda Crew, Christopher Evan Welch, and Matt Ross), Silicon Valley should be worth a look.
The show premieres April 6, the same night that Game of Thrones returns. And you thought Girls and True Detective made for an odd Sunday night combination.
Richard (Middleditch) is an introverted computer programmer living in the Hacker Hostel start-up incubator along with his best friend, Big Head (Brener), pompous Gilfoyle (Starr) and dry-witted Dinesh (Nanjiani). These social misfits live under the watch of Erlich (Miller), a self-satisfied dotcom millionaire who lets them stay in his house
 for free – as long as he gets a ten percent stake in their projects.
After a failed pitch to billionaire venture capitalist Peter Gregory (Welch), Richard seems destined to remain at his job at the tech company Hooli, founded by the megalomaniacal Gavin Belson (Ross). When Monica (Crew), Gregory's head of operations, and Jared (Woods), a Hooli executive, realize the value of the site's compression algorithm, a bidding war erupts between Belson and Gregory, with Richard caught in the middle.