Watch: Music Video For Tegan & Sara's 'Lego Movie' Theme "Everything Is Awesome"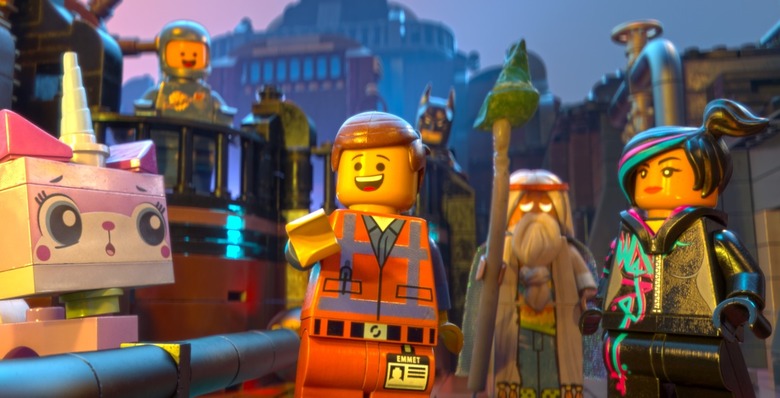 If you don't already have "Everything Is Awesome," the theme from Phil Lord and Chris Miller's The Lego Movie, stuck in your head, you will soon. It's as silly as they come, but it's also relentlessly upbeat and insanely catchy. If you've got kids in your house, it may be June before you stop hearing this song in your sleep. If you don't, you may be lucky enough to stop humming it to yourself by mid-March.
Sung by Tegan & Sara with an assist from The Lonely Island, the tune praises everything that is "awesome" in life, from "living our dream" to "books on Greek antiquities" to "rocks, clocks, and socks." The official music video has hit the web, and you could probably add it to the "awesome" list as well. Check it out after the jump.
Scenes from the film aside, the video for "Everything Is Awesome" looks like it was made by a couple of kids for about five bucks total. In other words, it looks like crap, but in a really endearing way that suits the inventive, playful quality of the film.
Ironically, the song isn't much loved by the Master Builders in the film, who dismiss it as crap shoved down their throats by President Business and his sinister corporation. But I'm gonna side with Emmet on this one. Evil provenance or no, this song rocks. For sure, it's a million times better than the dark, angsty crap that Batman likes.
The Lego Movie opened over the weekend.
The original 3D computer animated story follows Emmet, an ordinary, rules-following, perfectly average LEGO minifigure who is mistakenly identified as the most extraordinary person and the key to saving the world. He is drafted into a fellowship of strangers on an epic quest to stop an evil tyrant, a journey for which Emmet is hopelessly and hilariously underprepared.