Bong Joon-Ho's 'Snowpiercer' Will Get An Uncut Release In The U.S.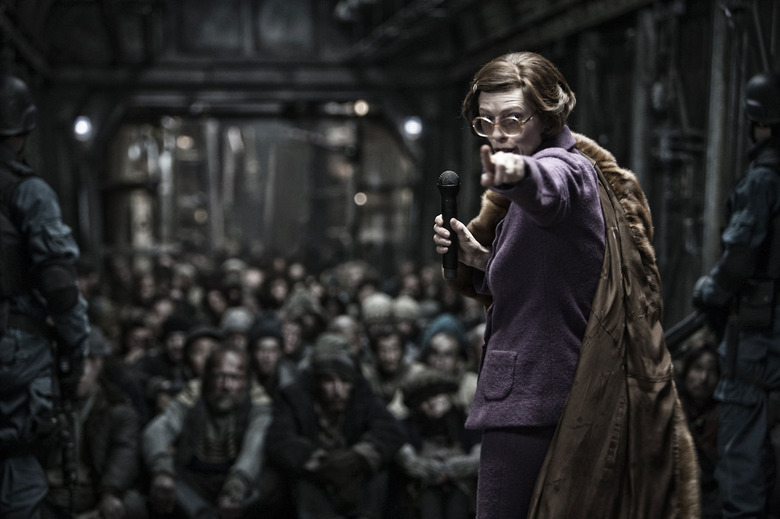 The exhausting back-and-forth between Bong Joon-ho and The Weinstein Company over the final U.S. / U.K. cut of Snowpiercer has finally come to an end. Bong's acclaimed sci-fi thriller will come to the States in its full, uncut glory, just as the director had wanted. The catch? It's now getting a limited release instead of a wide one. Hit the jump for more details on the truce.
Reports began circulating last summer that Weinstein was concerned dumb American audiences wouldn't "get" Snowpiercer. He pressured Bong to cut about twenty minutes from the film and add voiceovers. The changes would have eliminated much of the character detail and turned the movie into a more traditional action-thriller. Bong fought back, and the two have been arguing ever since.
Under the compromise, Weinstein will release Bong's original two-and-a-half hour cut of the movie, but only as a platform release — meaning the film is likely to hit a few major cities and maybe VOD before rolling out to other markets. For cinephiles who aren't lucky enough to live in an area with a thriving arthouse scene, that's a bummer.
But frankly, it makes more sense than Weinstein's original plan, which seemed doomed to please nobody. If Snowpiercer truly is as challenging as Bong fears, it was probably never going to catch on with mainstream audiences, with or without those Neil Gaiman-penned voiceovers. Meanwhile, those who love Bong enough to seek out his work were never going to be satisfied with a heavily modified version of his latest movie. At least this way, we can comfort ourselves with the knowledge that the uncut version is bound to hit Blu-ray / DVD sooner or later, even if it never comes to a theater near us.