'Hector And The Search For Happiness' Trailer: Simon Pegg Gets His Own 'Walter Mitty'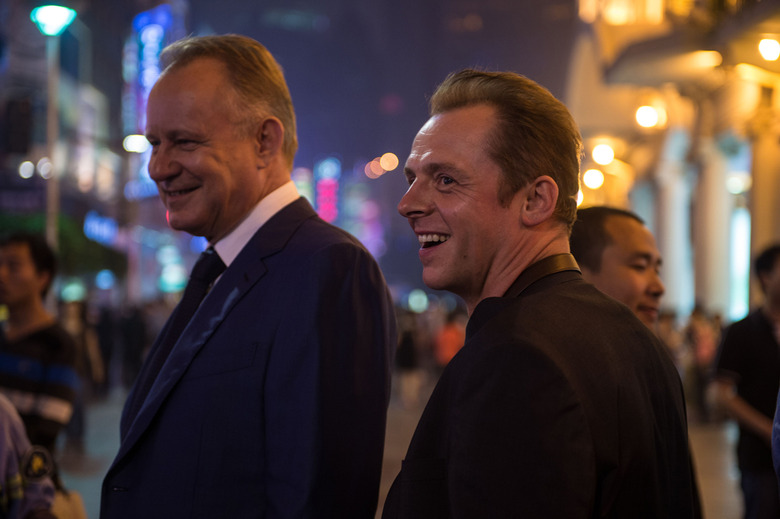 If Ben Stiller's The Secret Life of Walter Mitty had been a little less daydream-y and a little more British, it probably would have looked a lot like Peter Chelsom's Hector and the Search for Happiness. Both films center on middle-aged men who, unsatisfied by their dreary professional lives, decide to embark on whimsical adventures around the globe.
To be sure, there are a few differences. The man in this movie is played by Simon Pegg, not Ben Stiller, and he's a psychiatrist, not a photo editor. But there are more similarities, from the sweeping shots of snowy mountains all the way down to the plaid scarves that the characters don for their travels. Watch it after the jump.
In fairness, it could turn out that Hector and the Search for Happiness only resembles Walter Mitty on a superficial level. And even if they are pretty similar, it's not like Walter Mitty was some unassailable masterpiece; maybe Hector is a better play on the same themes. Plus, this is a pretty solid cast. Rosamund Pike, Stellan Skarsgård, Toni Collette, and Christopher Plummer star in addition to Pegg.
But at this moment, less than two months after Walter Mitty hit theaters, it's tough to get excited by what looks quite a lot like a British remake. (In fact, this one may have been shot first!) Good thing the movie itself doesn't open for a while — Hector and the Search for Happiness opens this fall in the U.K., and hasn't yet set a date in the U.S.
Pegg plays Hector, an eccentric yet irresistible London psychiatrist in crisis: his patients are just not getting any happier! He's going nowhere. Then one day, armed with buckets of courage and an almost child-like curiosity, Hector breaks out of his sheltered vacuum of a life into a global quest to find out if happiness exists. More importantly, if it exists for Hector. And so begins a colorful, exotic, dangerous and hysterical journey.