Watch A Behind The Scenes Video From '300: Rise Of An Empire'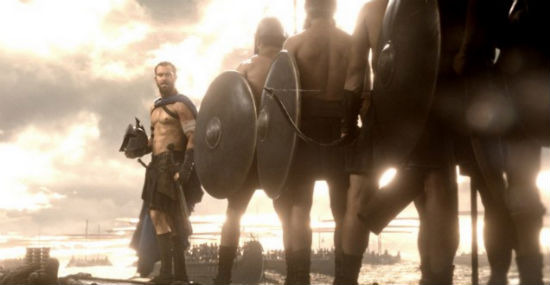 Zack Snyder's massive hit 300 was released in 2006. Though its sequel didn't start production at that time, it kind of feels like it did. Very early casting announcements and multiple title changes have made it seem like we've been hearing about 300: Rise of an Empire for years.
All that can now be put aside, because on March 7 Noam Murro's sequel starring Sullivan Stapleton, Eva Green, Callan Mulvey, Hans Matheson, Lena Headey and Rodrigo Santoro is finally hitting the big screen. The film borrows many of the distinct visual techniques Snyder used almost a decade ago, but with updated technology and a broader scope.
You can learn more about that and more in a new behind the scenes video released by Warner Bros. Check it out below.
Here's the video:
300: Rise of an Empire opens March 7. Here's all the official info:
Told in the breathtaking visual style of the blockbuster "300," this new chapter of the epic saga takes the action to a new battlefield—on the sea.  "300: Rise of an Empire" pits the Greek general Themistokles against the massive invading Persian forces, ruled by their God-King Xerxes, and led by Artemisia, the vengeful commander of the Persian navy.  Knowing his only hope of defeating the overwhelming Persian armada will be to unite all of Greece, Themistokles leads the charge that will change the course of the war.
Warner Bros. Pictures and Legendary Pictures present, a Cruel and Unusual Films/Mark Canton/Gianni Nunnari Production, "300: Rise of an Empire."  The action adventure stars Sullivan Stapleton ("Gangster Squad") as Themistokles and Eva Green ("Dark Shadows," "Casino Royale") as Artemisia.  Reprising their roles from "300" are: Lena Headey as the Spartan Queen, Gorgo; David Wenham as Dilios; Andrew Tiernan as Ephialtes; Andrew Pleavin as Daxos; and Rodrigo Santoro in the role of the Persian God-King Xerxes.  The main cast also includes Hans Matheson as Themistokles' closest friend and advisor, Aeskylos; Callan Mulvey and Jack O'Connell as father and son soldiers, Scyllias and Calisto; and Igal Naor as the Persian King Darius.
The film was directed by Noam Murro, from a screenplay by Zack Snyder & Kurt Johnstad, based on the graphic novel Xerxes, by Frank Miller.  Gianni Nunnari, Mark Canton, Zack Snyder, Deborah Snyder and Bernie Goldmann produced the film, with Thomas Tull, Frank Miller, Stephen Jones and Jon Jashni serving as executive producers.
The behind-the-scenes creative team was led by includes director of photography Simon Duggan, production designer Patrick Tatopoulos, editors Wyatt Smith and David Brenner, and costume designer Alexandra Byrne.  The music is by Junkie XL.
Opening on March 7, 2014, the film is being released in 3D and 2D in select theatres and IMAX, and will be distributed worldwide by Warner Bros. Pictures, a Warner Bros. Entertainment Company.  "300: Rise of an Empire" is rated R by the MPAA for strong sustained sequences of stylized bloody violence throughout, a sex scene, nudity and some language.