Exclusive: Mondo's 'Back To The Future Part II' By Laurent Durieux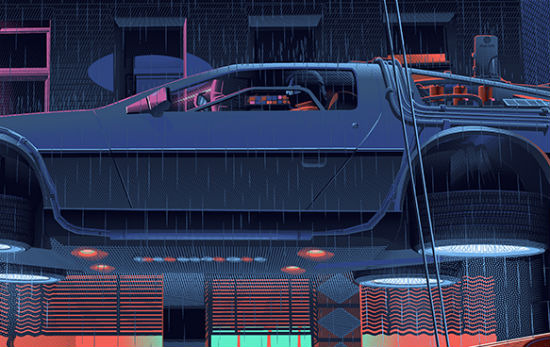 2015 is only a year away but you can have everyone's favorite 2015 movie on your wall starting this Friday. Laurent Durieux, he of that excellent Die Hard poster, among others, is having his first solo art show at the Mondo Gallery in Austin TX on February 7. We're delighted to debut one of the many pieces in the show: Back to the Future Part II.
We already knew Durieux, who flew in from Belgium for the show, did The Birds, Forbidden Planet and the first Back to the Future for the show (though that has yet to be revealed) but with this one image, he truly captures the time, place and tone of Robert Zemeckis' hit 1989 sequel. Check out both versions of the poster below.
Back to the Future Part II, as well as the rest of the posters in the show, will first go on sale at 7 p.m. February 7 at 4115 Guadalupe Street in Austin, TX. The exhibit remains on display through March 1.
On the left is the regular, an edition of 575, and the variant is on the right, edition of 225.
Keep an eye on @MondoNews for more reveals from Durieux's show later this week.