Cool Stuff: Aled Lewis' 'Such Pixels' Exhibit At Gallery 1988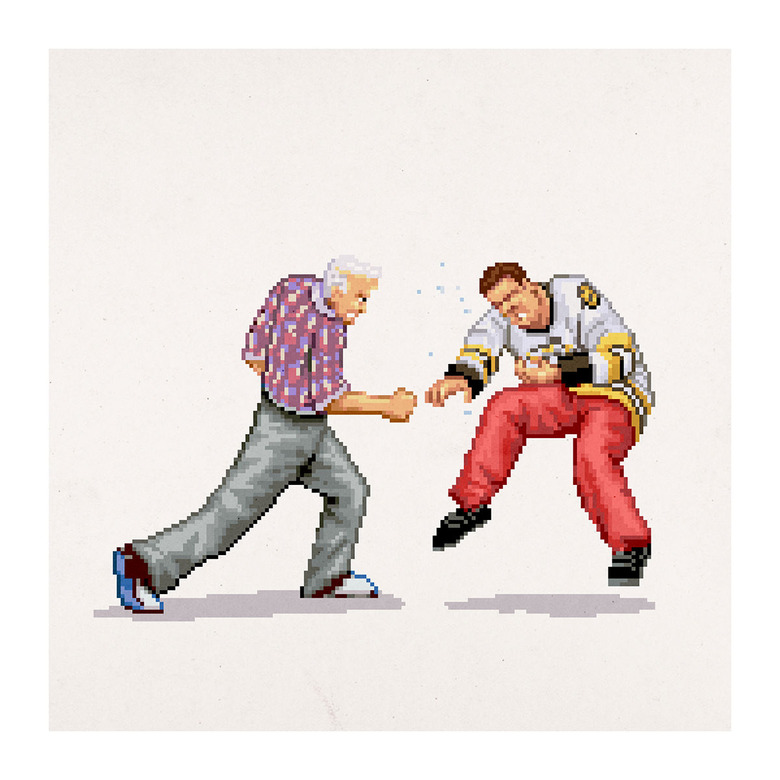 UK artist Aled Lewis is a relative newcomer in terms of mainstream pop culture art, but he's about to become a household name. Previously, he'd done a few brilliant Edgar Wright pieces for Gallery 1988 in Los Angeles (among others) and now the gallery that all but started the craze is featuring Lewis' first solo exhibit. And it looks insane.
The exhibit is called Such Pixels and will open February 7 at Gallery 1988 West. The first few teases of the show just came online and while I'd normally wait for a few more images before writing about the show, these images are so beyond cool I figured you had to see them. That's just one above. (From Happy Gilmore, of course.) Below, check out some even more amazing images blending movies and video games.
Gallery 1988 says the following about the exhibit:
I'd be nervous to overhype this show that opens Friday night at G1988 (West) with Aled Lewis's first solo show, "Such Pixels," but it's humanly impossible. In the tradition of Olly Moss's "Paper Cuts" and Mike Mitchell's "Just Like Us," Aled has produced an overwhelming amount of pop culture / video game inspired work, broken into different series (the 3 above are part of a larger section, while the Tecmo Bowl x Forrest Gump piece is part of a different series), with each piece being smarter and wittier than the next.
Here are the images they teased.
Yes, that's Forrest Gump reimagined as Tecmo Bowl.
We've seen plenty of movies reimagined as 8-bit games online, but I think Lewis' vision elevates the concept. His interpretations have a unique 8-bit look, but also are instantly recognizable as the films. That creates a level of beauty you don't get in a general mashup. He's also picking subjects we don't see too often, at least in these teases. Back to the Future aside, how many Happy Gilmore or Thelma & Louise posters do you ever see?
Such Pixels opens from 7-10 p.m. February 7 at Gallery 1988 West, 7308 Melrose Ave., Los Angeles, CA. It'll remain on display through March 1. Visit www.gallery1988.com for more info and that's where any leftovers will go on sale February 8.
Oh, and just because, here are some old Lewis' works NOT in this show. The guy is a talent: