International 'Captain America: The Winter Soldier' Trailer Introduces Love Interest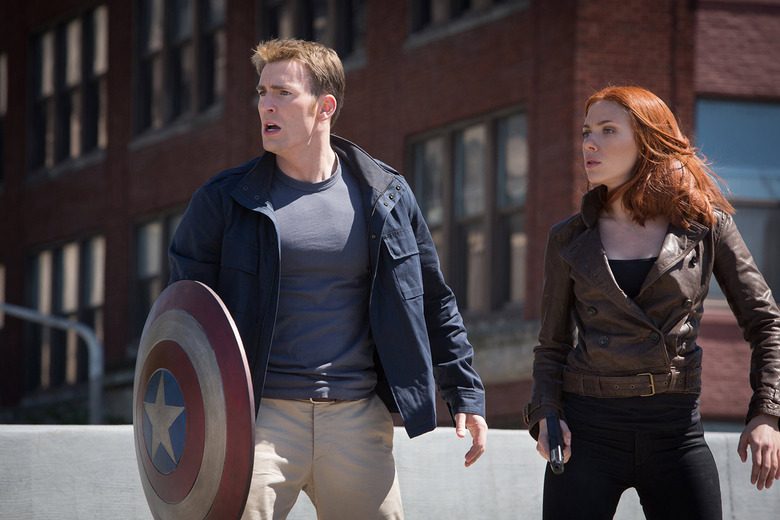 As we continue to process the awesomeness that is the latest Captain America: The Winter Soldier trailer, there's even more to consider. The U.K. version of the trailer, which is composed mostly of the same footage, is cut differently and adds in one or two extra morsels. Most significant among these is Sharon Carter, aka Agent 13, played by Emily VanCamp. That's the niece of Captain America's former love, Peggy Carter, and her family ties should make for some awkward interactions. Check it out below.
Thanks to Comic Book Movie for the heads up. Here's the international trailer.
Despite what it says there, Captain America: The Winter Soldier opens April 4 in the U.S. Here's the brand new U.S. trailer just in case you missed it.
Captain America: The Winter Soldier hits theaters April 4. Chris Evans returns in the lead role, and Samuel L. Jackson, Scarlett Johansson, Emily VanCamp, Frank Grillo, and Robert Redford also star. Joe and Anthony Russo directed.
After the cataclysmic events in New York with The Avengers, Marvel's "Captain America: The Winter Soldier" finds Steve Rogers, aka Captain America, living quietly in Washington, D.C. and trying to adjust to the modern world. But when a S.H.I.E.L.D. colleague comes under attack, Steve becomes embroiled in a web of intrigue that threatens to put the world at risk. Joining forces with the Black Widow, Captain America struggles to expose the ever-widening conspiracy while fighting off professional assassins sent to silence him at every turn. When the full scope of the villainous plot is revealed, Captain America and the Black Widow enlist the help of a new ally, the Falcon. However, they soon find themselves up against an unexpected and formidable enemy–the Winter Soldier.