Philip Seymour Hoffman's Death Won't Delay 'The Hunger Games: Mockingjay'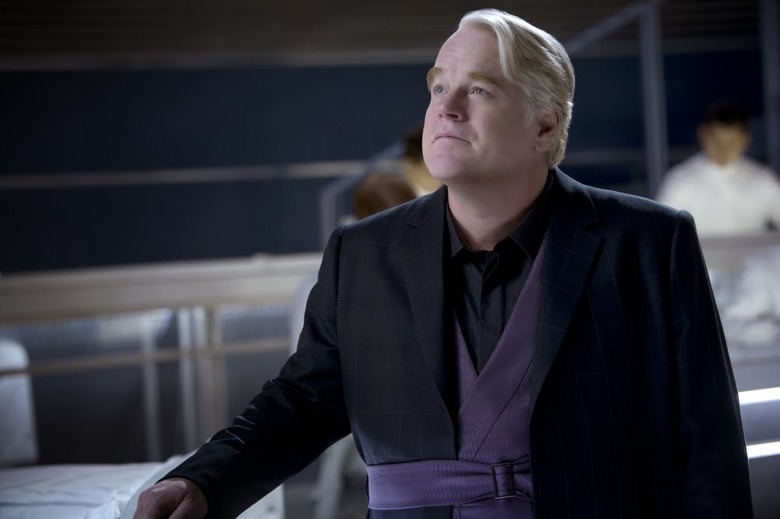 When Philip Seymour Hoffman tragically and suddenly passed away this weekend, he left behind a couple of not-quite-finished projects. One is the two-parter The Hunger Games: Mockingjay, in which he reprises the role of Plutarch Heavensbee from The Hunger Games: Catching Fire; another is Showtime's Happyish, which was set to star Hoffman as an ad exec trying to change his life.
While the former shouldn't be delayed too much by his passing, the latter seems to be in jeopardy. Get updates on both after the jump.
"Philip Seymour Hoffman was a singular talent and one of the most gifted actors of our generation. We're very fortunate that he graced our Hunger Games family," said the studio in a statement. "Losing him in his prime is a tragedy, and we send our deepest condolences to Philip's family."
The fate of Hoffman's Happyish is less clear. Created by Shalom Auslander, the dramedy was to star Hoffman as Thom Payne, a "successful but self-loathing creative director at a New York ad agency." Although Showtime had ordered ten episodes of the series, only the pilot had been shot so far.
The network released a statement reacting to Hoffman's death but has not officially announced if or how the show will proceed. "Philip Seymour Hoffman was one of our generation's finest and most brilliant actors," they wrote. "He was also a gifted comedic talent. It was a great privilege and pleasure to work with him and we are all absolutely devastated by this sudden loss. Our thoughts go out to his family at this very difficult time."
A source who spoke with E!, however, indicated that Happyish was "unlikely" to continue. "It is hard to imagine a way in which it could go on," said the individual. "His role would have to be recast and there weren't any other actors in serious consideration aside from Philip. If the show does move forward, the premiere would be delayed as pilot would need to be reshot."