WGA Rewards 'Her' And 'Captain Phillips'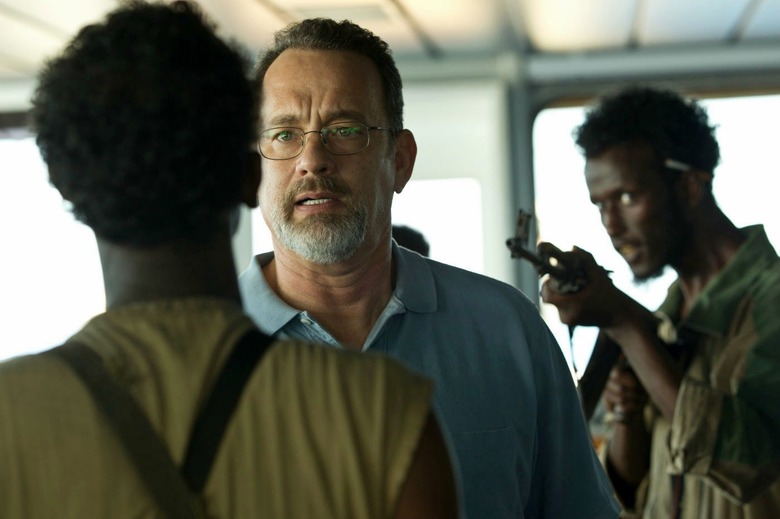 By this point in the awards race, it's usually pretty clear who the frontrunners are. Most of the guilds have already thrown their support behind a few favorite films, which typically then go on to fare well at the Academy Awards. Nevertheless, there were a couple of mild surprises when the WGA announced its 2014 Writers Guild Award winners this weekend.
In the original screenplay category, Spike Jonze beat out the likes of David O. Russell and Woody Allen to pick up a prize for Her. That bodes well for Jonze on Oscar night, as the list of Oscar nominees perfectly matched the list of WGA nominees this year. A more unexpected result is Billy Ray's adapted screenplay win for Captain Phillips, but that doesn't really make him the Oscar favorite. He didn't have to compete against 12 Years a Slave or Philomena, both of which were deemed ineligible for the WGAs. Hit the jump to see who else won in the film and TV categories.
Original Screenplay: Her, Written by Spike JonzeAdapted Screenplay: Captain Phillips, Screenplay by Billy Ray; Based on the book A Captain's Duty: Somali Pirates, Navy SEALS, and Dangerous Days at Sea by Richard Phillips with Stephan TaltyDocumentary Screenplay: Stories We Tell, Written by Sarah PolleyTELEVISION CATEGORIESDrama Series: Breaking Bad, Written by Sam Catlin, Vince Gilligan, Peter Gould, Gennifer Hutchison, George Mastras, Thomas Schnauz, Moira Walley-BeckettComedy Series: Veep, Written by Simon Blackwell, Roger Drew, Sean Gray, Armando Iannucci, Ian Martin, Georgia Pritchett, David Quantick, Tony Roche, Will SmithNew Series: House of Cards, Written by Kate Barnow, Rick Cleveland, Sam Forman, Gina Gionfriddo, Keith Huff, Sarah Treem, Beau WillimonEpisodic Drama: "Confessions" (Breaking Bad), Written by Gennifer HutchisonEpisodic Comedy: "Hogcock!" (30 Rock), Written by Jack Burditt & Robert CarlockLong Form – Adapted: Muhammad Ali's Greatest Fight, Written by Shawn Slovo, Based on the book by Howard Bingham and Max WallaceShort Form New Media – Original: "Episode 4: The Collected Sylvia" (Sylvia Plath: Girl Detective), Written by Mike SimsesAnimation: "A Test Before Trying" (The Simpsons), Written by Joel H. CohenComedy / Variety (Including Talk) – Series: The Colbert Report, Writers: Stephen Colbert, Tom Purcell, Michael Brumm, Nate Charny, Rich Dahm, Paul Dinello, Eric Drysdale, Rob Dubbin, Glenn Eichler, Gabe Gronli, Dan Guterman, Barry Julien, Jay Katsir, Frank Lesser, Opus Moreschi, Bobby Mort, Meredith Scardino, Max WernerComedy / Variety – Music, Awards, Tributes – Specials: Blake Shelton's Not So Family Christmas, Head Writers: Jay Martel, Ian Roberts; Writers: Alex Rubens, Charlie SandersQuiz and Audience Participation: Jeopardy!, Written by John Duarte, Harry Friedman, Mark Gaberman, Debbie Griffin, Michele Loud, Robert McClenaghan, Jim Rhine, Steve D. Tamerius, Billy WisseDaytime Drama: Days of Our Lives, Written by Lorraine Broderick, David Cherrill, Carolyn Culliton, Richard Culliton, Rick Draughon, Christopher Dunn, Janet Iacobuzio, David A. Levinson, Ryan Quan, Dave Ryan, Melissa Salmons, Christopher J. WhitesellChildren's – Episodic & Specials: "influANTces" (A.N.T. Farm), Written by Vincent BrownDocumentary – Current Events: "Egypt in Crisis" (Frontline), Written by Marcela Gaviria & Martin SmithDocumentary – Other Than Current Events: (tie) "The Abolitionists" (American Experience), Written by Rob Rapley and "Silicon Valley" (American Experience), Telescript by Randall MacLowry and Michelle Ferrari; Story by Randall MacLowryNews – Regularly Scheduled, Bulletin, or Breaking Report: "Tragedy at Newtown" Special Edition (ABC World News with Diane Sawyer), Written by Lisa Ferri and Matt NegrinNews – Analysis, Feature, or Commentary: "Lethal Medicine" (60 Minutes), Written by Michael Rey, Oriana Zill de Granados, Michael RadutzkyVideo Game: The Last of Us, Written by Neil DruckmannLaurel Award for Screenwriting Achievement: Paul MazurskyEvelyn F. Burkey Award for Career Achievement: James SchamusValentine Davies Award: Sam Simon