Cool Stuff: 'It Came From 1984' Art Show In Brooklyn, Featuring 'Ghostbusters,' 'Indiana Jones' And 'Terminator'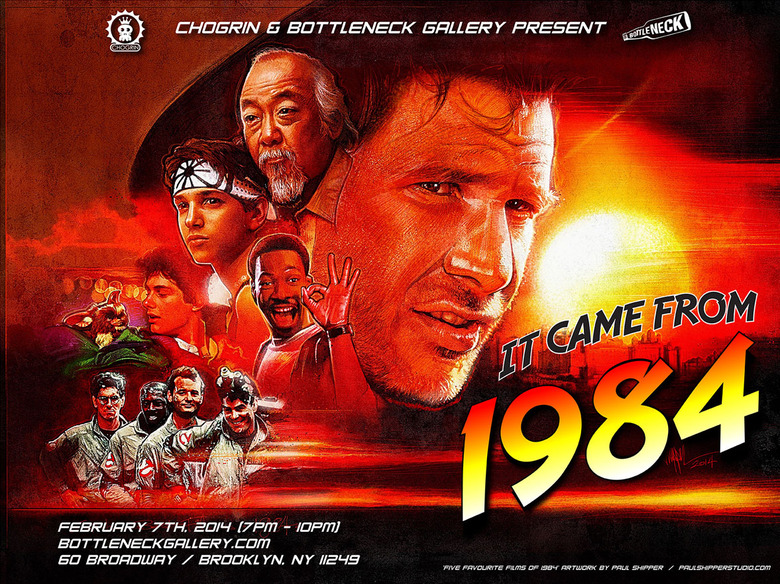 1984 was a great year for blockbuster cinema. Like, a ridiculously good year. The Terminator, Ghostbusters, Indiana Jones and the Temple of Doom, Beverly Hills Cop, Gremlins, A Nightmare on Elm Street, Police Academy, This is Spinal Tap, Revenge of the Nerds, Purple Rain, The Karate Kid, Splash, and Red Dawn were all released. All those films and more are celebrating their 30th anniversary this year and the Bottleneck Gallery in Brooklyn, NY is having one big bash in their honor.
It's an art show called It Came From 1984 and it opens February 7. Artists from all over have interpreted films from 1984 in all kind of media and, below, you can catch a glimpse.
It Came From 1984, curated by Chogrin, opens from 7 p.m. February 7 at the Bottleneck Gallery, 60 Broadway, Brooklyn, New York. It'll remain on display for a few weeks after. Get specifics at www.bottleneckgallery.com.
Below is a small sampling of art in the show. Mouse over each for the artist name.
There's just some awesome stuff there, don't you agree? All remaining prints will go on sale online Saturday February 8 at the above link.