'Winter's Tale' Trailer: Colin Farrell And His Magic Horse Face Love And Death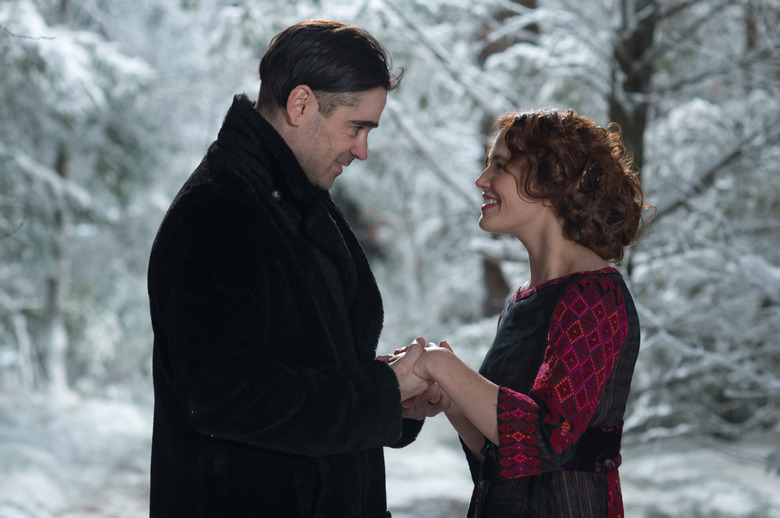 After decades spent writing and producing, Akiva Goldsman is finally trying his hand at feature directing. His first effort is Winter's Tale, an epic fantasy romance based on Mark Helprin's novel of the same title.
Colin Farrell stars as Peter Lake, a thief attempting to rob a mansion in turn of the century New York. Once inside the home, however, he discovers a charming young woman named Beverly Penn (Downton Abbey's Jessica Brown Findlay) who is dying of consumption. The two develop a love powerful enough to span across the ages and maybe even overcome death.
Also starring are Jennifer Connelly as a modern-day woman who gets wrapped up in Peter's tale, and Russell Crowe as a disgruntled gang boss who's out to get Peter. Watch the latest trailer after the jump.
The book is said to be heavy on fantastical elements like an angelic horse, a cloud wall, and a rainbow bridge, but we don't get to see much of that stuff here. Whether that's because the magical aspects have been toned down for budget reasons or because Warner Bros. is saving that stuff for the movie is unclear.
Indeed, the trailer makes it kind of difficult to tell at all what's going on. We get no indication of how Peter and Pearly (Crowe) ended up in 21st century New York, or what Beverly's love has to do with any of it. But that's not a complaint, really. It's certainly preferable to getting a promo that gives away all of the story's twists and turns.
Winter's Tale looks unapologetically romantic, and that likely means this won't be a movie for everyone. But for those who adore that kind of thing, Winter's Tale has the perfect release date — it opens February 14, a.k.a. Valentine's Day.