David O. Russell Wants Jennifer Lawrence To Play The Inventor Of The Miracle Mop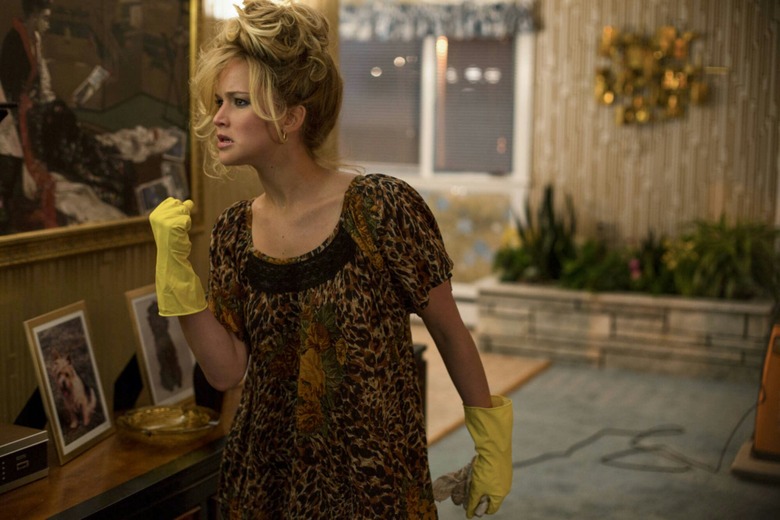 The last two times that David O. Russell teamed up with Jennifer Lawrence, it went really well for both of them. They each got Oscar nominations for Silver Linings Playbook and American Hustle (with Lawrence actually winning for the former), and both films fared well at the box office. So it shouldn't come as much of a shock that he's eager to team with her again.
Russell is reportedly in talks with Fox 2000 to rewrite and possibly direct an untitled biopic about Joy Mangano, the inventor of the Miracle Mop, and wants Lawrence to star as the lead. If she does sign on, let's just hope she does better with Mangano's Long Island accent than she did with Rosalyn Rosenfeld's. Get plot details and more after the jump.
Mangano's tale is an inspirational one. She was a single mom struggling to make ends meet by working three separate jobs. Then she invented the self-wringing Miracle Mop, which became a sensation on QVC. In 1999, she sold her company, which also makes Huggable Hangers, to HSN in a multi-million dollar deal.
Before you get too excited, keep in mind that a Russell-Lawrence reunion is far from certain. The director has a habit of getting linked to movies that never come to pass. He was eyeing The Ends of the Earth with Lawrence about a year ago, and was circling a JFK assassination pic starring Leonardo DiCaprio last summer, but has not yet decided which movie will be his follow-up to American Hustle.
Meanwhile, Lawrence is in higher demand than never. She's currently shooting The Hunger Games: Mockingjay, Part 1 of which is due out this fall, and will next appear in this summer's X-Men: Days of Future Past. She's also currently attached to reunite with Hunger Games director Gary Ross on two films, East of Eden and Burial Rites.