Bill Hader Joins Amy Schumer In Judd Apatow's 'Trainwreck'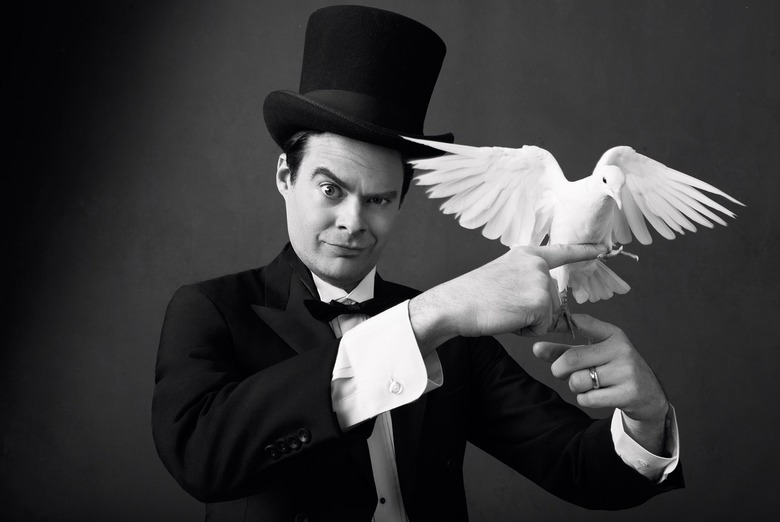 It felt like the end of an era when Bill Hader left Saturday Night Live last year, after eight seasons on the show. But there's no need to worry that he'll fade into obscurity. He's kept himself plenty busy since then, and has now booked his juiciest post-SNL gig yet. Hader is in talks to join Amy Schumer in Trainwreck, the next comedy being directed by Judd Apatow.
Hader has done very well for himself since SNL launched his career in the mid-'00s, becoming one of its most popular players while building up a solid resume outside the show. But considering what Apatow, as a director and as a producer, has done for the careers of Steve Carell, Seth Rogen, Jonah Hill, and more, Trainwreck has the potential to kick him up to the next level.
Not that he's desperate for the help. Hader has just returned from Sundance, where he and his former SNL co-star Kristen Wiig earned rave reviews for Craig Johnson's indie dramedy The Skeleton Twins. He has not one but two Pixar movies coming up, Inside Out and The Good Dinosaur. Additionally, he'll be seen in the romantic drama The Disappearance of Eleanor Rigby whenever The Weinstein Co. gets around to releasing it.
Trainwreck will open July 24, 2015, nestled among all the sci-fi blockbusters and superhero sequels.
[Source: Variety]