Jerry Seinfeld Confirms 'Seinfeld' Reunion; 'Full House' Sequel In The Works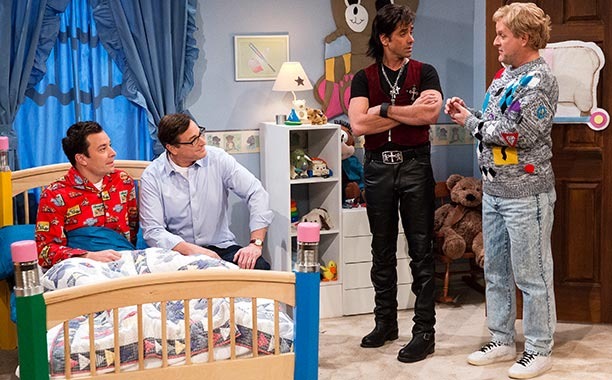 What a great time for '90s nostalgia. The Backstreet Boys are touring again, crop tops are coming back into fashion, and Disney is going ahead with the Boy Meets World spinoff Girl Meets World. Now we also have reunions from the Seinfeld and Full House casts to look forward to.
While appearing on the WFAN show Boomer & Carton yesterday, Jerry Seinfeld confirmed that the "big, huge, gigantic" project he's been working on with Larry David is indeed a Seinfeld reunion, as has been rumored. He declined to give details, however, saying only that Jason Alexander would play George Costanza, and that other characters from the show would also be involved.
Seinfeld said that the "secret project," which he described as a "short-ish form" one-off, was neither a Super Bowl commercial nor a Comedians in Cars Getting Coffee episode — but that "it is not not those things, either." Whatever it is, we shouldn't have to wait long to see it, as Seinfeld also promised that it'd be released "very, very soon." [Variety]
After the jump, the men of Full House, who've already re-teamed for an Super Bowl ad, tease a potential sequel with "a twist."
Stamos teased the possibility of a follow-up during an appearance with Saget and Coulier on Bravo's Watch What Happens Live. "We're sort of working on a twist on a sequel," he told host Andy Cohen. "But we don't know if it's going to happen yet or not."
In a separate conversation with CBS News, Stamos revealed that the event would be "sort of a reunion type thing with the girls," but that it wouldn't involve the full cast.
The obvious guess here is that it's another yogurt ad, but Stamos's seriousness suggests it'll be something a bit more substantial. "The legacy is so important to us," he said on Watch What Happens Live. "Every year, it just gets deeper and more important to everybody. We just have to do it right."
In the meantime, check out the guys' Oikos spots and their Fallon skit below.
[TheWrap]