Jesse Eisenberg Is Lex Luthor In 'Batman Vs. Superman'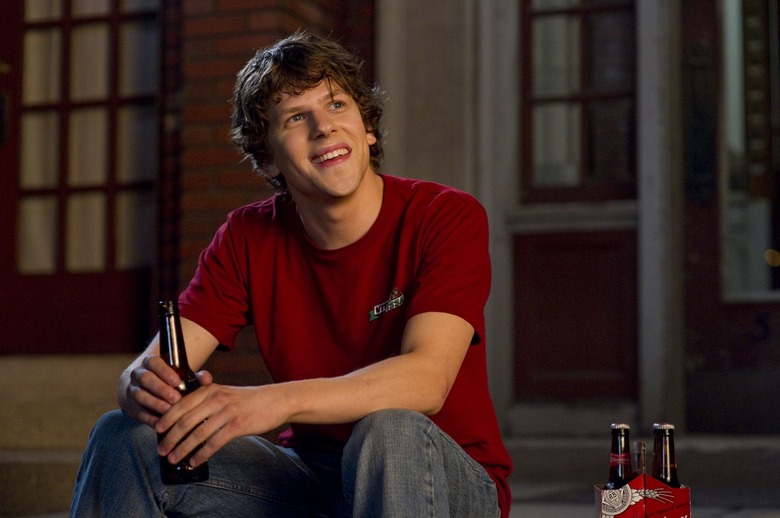 You didn't see this coming: Jesse Eisenberg is Lex Luthor in Zack Snyder's sequel to Man of Steel, currently referred to as Batman vs. Superman. Jeremy Irons is also joining the film, to play Bruce Wayne's butler Alfred.
The press release is below.
So if casting Ben Affleck as Bruce Wayne led to fan petitions against the decision, what will casting Eisenberg as Luthor do? Eisenberg isn't even bald! In truth, while he's young for the typical conception of the part, he might be a really interesting choice for the role. It's certainly a different direction. Pretty easy to think of him as a young, ambitious, cold and callous Luthor, essentially his Social Network version of Mark Zuckerberg in the context of a superhero movie. That's what comes through in Snyder's press release comments below.
As Peter said,
I like the Jesse Eisenberg casting. Think about it — Lex Luthor today would be more Mark Zuckerberg, less Bill Gates.

— /Film (@slashfilm) January 31, 2014
BURBANK, CA, January 31, 2014 – Warner Bros. Pictures announced today that Jesse Eisenberg has been set to star as Lex Luthor and Jeremy Irons will play Alfred in the upcoming Zack Snyder untitled Superman/Batman film. The dual announcement was made today by Greg Silverman, President, Creative Development and Worldwide Production, and Sue Kroll, President, Worldwide Marketing and International Distribution, Warner Bros. Pictures.Snyder stated, "Lex Luthor is often considered the most notorious of Superman's rivals, his unsavory reputation preceding him since 1940. What's great about Lex is that he exists beyond the confines of the stereotypical nefarious villain. He's a complicated and sophisticated character whose intellect, wealth and prominence position him as one of the few mortals able to challenge the incredible might of Superman. Having Jesse in the role allows us to explore that interesting dynamic, and also take the character in some new and unexpected directions."The director added, "As everyone knows, Alfred is Bruce Wayne's most trusted friend, ally and mentor, a noble guardian and father figure. He is an absolutely critical element in the intricate infrastructure that allows Bruce Wayne to transform himself into Batman. It is an honor to have such an amazingly seasoned and gifted actor as Jeremy taking on the important role of the man who mentors and guides the guarded and nearly impervious façade that encapsulates Bruce Wayne."Snyder's film stars Henry Cavill, reprising his role as Superman/Clark Kent, Ben Affleck as Batman/Bruce Wayne, and Gal Gadot as Wonder Woman/Diana Prince. The film also reunites "Man of Steel" stars Amy Adams, Laurence Fishburne and Diane Lane.The new film is currently being written by Chris Terrio, from a screenplay by David S. Goyer. Charles Roven and Deborah Snyder are producing, with Benjamin Melniker, Michael E. Uslan, Wesley Coller, David S. Goyer and Geoff Johns serving as executive producers.The film is set to open worldwide on May 6, 2016, and is based on Superman characters created by Jerry Siegel & Joe Shuster, Batman characters created by Bob Kane, and Wonder Woman created by William Moulton Marston, appearing in comic books published by DC Entertainment.