Release Dates: Guillermo Del Toro's 'Crimson Peak,' 'Pitch Perfect 2,' 'Everest,' 'Ouija' And Others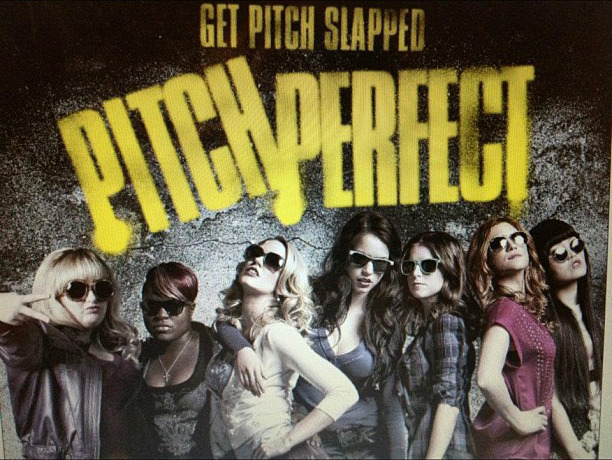 Universal Pictures just dated seven major upcoming releases including three in 2015. The biggest titles are Guillermo del Toro's Crimson Peak, which will hit regular and IMAX theaters October 16, 2015 and Pitch Perfect 2, which'll be out May 15, 2015. There's also Baltasar Kormákur's star-studded Everest on February 27, 2015 and the Platinum Dunes film Ouija on October 24 of this year. Read about all those and more below.
Here's the breakdown
Legendary Pictures' AS ABOVE, SO BELOW will be released by Universal Pictures on Friday, August 15, 2014.
Universal Pictures will release A WALK AMONG THE TOMBSTONES on Friday, September 19, 2014.
Universal Pictures will release OUIJA on Friday, October 24, 2014.
Universal Pictures will release EVEREST in 3D and in IMAX 3D on Friday, February 27, 2015.
Universal Pictures will release PITCH PERFECT 2 on Friday, May 15, 2015.
Legendary Pictures and Universal Pictures' CRIMSON PEAK will be released by Universal in theaters and in IMAX on Friday, October 16, 2015.
The working title for Untitled Illumination Entertainment 2016 Project 1 is now THE UNTITLED PETS PROJECT.  Universal Pictures will release the film in 3D on its previously announced date,Friday, February 12, 2016.
And here are the studio plot descriptions of each of those films.
AS ABOVE, SO BELOWMiles of twisting catacombs lie beneath the streets of Paris, the eternal home to countless souls. When a team of explorers ventures into the uncharted maze of bones, they uncover the secret of what this city of the dead was meant to contain.  A journey into madness and terror, AS ABOVE, SO BELOW reaches deep into the human psyche to reveal the personal demons that come back to haunt us all.  Written by John Erick Dowdle and Drew Dowdle (Quarantine, Devil) and directed by John Erick Dowdle, the psychological thriller is produced by Thomas Tull, Jon Jashni, Drew Dowdle and Patrick Aiello.  Alex Hedlund serves as the executive producer.A WALK AMONG THE TOMBSTONESBased on Lawrence Block's bestselling series of mystery novels, A WALK AMONG THE TOMBSTONES stars Liam Neeson as Matt Scudder, an ex-NYPD cop who now works as an unlicensed private investigator operating just outside the law.  When Scudder reluctantly agrees to help a heroin trafficker (Dan Stevens) hunt down the men who kidnapped and then brutally murdered his wife, the PI learns that this is not the first time these men have committed this sort of twisted crime...nor will it be the last.  Blurring the lines between right and wrong, Scudder races to track the deviants through the backstreets of New York City before they kill again.  Written and directed by Scott Frank (The Lookout), A WALK AMONG THE TOMBSTONES is produced by Jersey Films' Danny DeVito, Double Feature Films' Michael Shamberg and Stacey Sher, Cross Creek Pictures' Brian Oliver and Exclusive Media's Tobin Armbrust.  Universal will distribute the film in North America.OUIJAIn OUIJA, a group of friends must confront their most terrifying fears when they awaken the dark powers of an ancient spirit board.  Stiles White directs the supernatural thriller that is produced by Platinum Dunes partners Michael Bay, Brad Fuller and Andrew Form (The Purge,The Texas Chainsaw Massacre, Friday the 13th) alongside Blumhouse Productions' Jason Blum (Paranormal Activity and Insidious series, The Purge), Bennett Schneir (Battleship) and Hasbro.  Juliet Snowden and Stiles White wrote the script for OUIJA, and Universal will distribute the film worldwide.EVERESTInspired by the incredible events surrounding a treacherous attempt to reach the summit of the world's highest mountain, EVEREST documents the awe-inspiring journey of two different expeditions challenged beyond their limits by one of the fiercest snowstorms ever encountered by mankind.  Their mettle tested by the harshest of elements found on the planet, the climbers will face nearly impossible obstacles as a lifelong obsession becomes a breathtaking struggle for survival.  Starring Jason Clarke, Josh Brolin, John Hawkes and Jake Gyllenhaal, the epic adventure will be directed by Baltasar Kormákur (2 Guns, Contraband) and produced by Working Title Films' Tim Bevan and Eric Fellner, Cross Creek Pictures' Brian Oliver and Tyler Thompson, as well as Nicky Kentish Barnes.  Universal Pictures and Cross Creek Pictures' presentation of EVEREST—in association with Walden Media—is adapted for the screen by Mark Medoff (Children of a Lesser God) and Oscar® winner Simon Beaufoy (Slumdog Millionaire).  The film will shoot on location in Nepal on the foothills of Everest, the Italian Dolomites and at Cinecittà Studios in Rome and Pinewood Studios in the U.K.PITCH PERFECT 2The Barden Bellas are back in PITCH PERFECT 2, the follow-up to summer 2012's smash hit.  The comedy will be helmed by Elizabeth Banks, co-star and producer of Pitch Perfect, and produced by Paul Brooks, Max Handelman and Banks.  Writer Kay Cannon returns to the team to pen the next chapter.CRIMSON PEAKLegendary Pictures' CRIMSON PEAK, a co-production with Universal Pictures, is a haunting gothic horror story directed by the master of dark fairy tales, Guillermo del Toro (Pan's Labyrinth,Hellboy series, Pacific Rim), written by del Toro and Matthew Robbins and starring Mia Wasikowska, Jessica Chastain, Tom Hiddleston and Charlie Hunnam.  In the aftermath of a family tragedy, an aspiring author is torn between love for her childhood friend and the temptation of a mysterious outsider.  Trying to escape the ghosts of her past, she is swept away to a house that breathes, bleeds...and remembers.  Thomas Tull, Jon Jashni, del Toro and Callum Greene produce, and Jillian Share executive produces.THE UNTITLED PETS PROJECTUniversal Pictures and Illumination Entertainment announce THE UNTITLED PETS PROJECT, their fifth fully-animated feature-film collaboration.  Comedy superstars Louis C.K., Eric Stonestreet and Kevin Hart will voice characters, and all three performers will make their animated feature-film debuts in the 3D comedy-adventure.  Illumination founder and CEO Chris Meledandri and his longtime collaborator Janet Healy will produce the film directed by Chris Renaud (Despicable Me, Despicable Me 2), co-directed by Yarrow Cheney and written by Cinco Paul & Ken Daurio.For one bustling Manhattan apartment building, the real day starts after the folks on two legs leave for work and school.  That's when the pets of every stripe, fur and feather begin their own nine-to-five routine: hanging out with each other, trading humiliating stories about their owners, or auditioning adorable looks to get better snacks.  The building's top dog, Max (voiced by Louis C.K.), a quick-witted terrier rescue who's convinced he sits at the center of his owner's universe, finds his pampered life rocked when she brings home Duke (Eric Stonestreet), a sloppy, massive mess of a mongrel with zero interpersonal skills.  When this reluctant canine duo finds themselves out on the mean streets of New York, they have to set aside their differences and unite against a fluffy-yet-cunning bunny named Snowball (Kevin Hart), who's building an army of Ex-Pets abandoned by their owners and out to turn the tables on humanity...all before dinnertime.