'From Dusk Till Dawn' Trailer: Vampire Slaying South Of The Border With Robert Rodriguez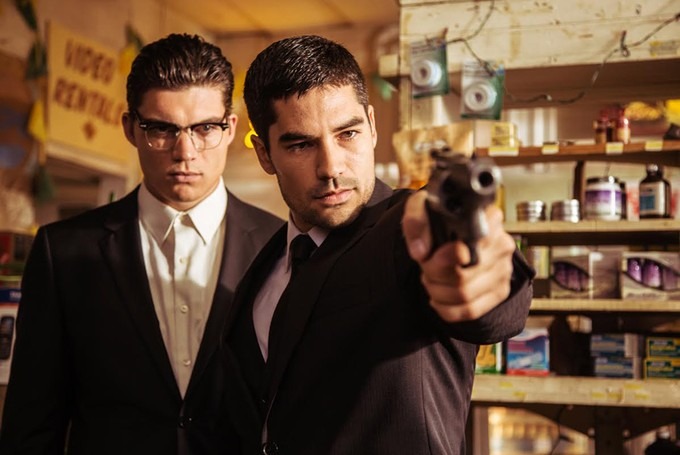 Robert Rodriguez's new TV series, From Dusk Till Dawn, flying towards your eyeballs like a bat out of hell. It feels like just days ago when we heard the director would be adapting his 1996 vampire movie into the TV show, and now here we are with the March 11 premiere date on the horizon and a brand new trailer to enjoy.D.J. Cotrona (Dear John, G.I. Joe: Retaliation) and Zane Holtz (Holes, The Perks of Being a Wallflower) play Richie and Seth Gecko, two fugitives on the run who kidnap a family and hide out at a seedy strip club. A club that so happens to be crawling with vampires. And yes, that's exactly the plot of the original film, which was written by Quentin Tarantino. This series supposedly expands the story from the film; Rodriguez has called the movie the short story version and the series a novel.
The 10 episode season premieres March 11 at 9 p.m. on the El Ray Network and you can catch the full trailer below.
Here's the full trailer for From Dusk Till Dawn: The Series.
And here's the full press release for the show, chock full of good information:
El Rey Network released today the first official trailer from the supernatural crime saga, "From Dusk Till Dawn: The Series," premiering March 11th at 9pm ET/PT. The network's first scripted original on Robert Rodriguez's new genre-busting cable network, the series is based on the thrill-ride film of the same name. The 10-episode serialized drama is centered around bank robber, Seth Gecko and his violent, unpredictable brother, Richard "Richie" Gecko, who are wanted by the FBI and Texas Rangers Earl McGraw and Freddie Gonzalez after a bank heist left several people dead. While on the run to Mexico, Seth and Richie encounter former pastor Jacob Fuller and his family, whom they take hostage. Using the family RV to cross the border, chaos ensues when the group detours to a strip club that is populated by vampires. They are forced to fight until dawn in order to get out alive.
The series features D.J. Cotrona (Dear John, G.I. Joe: Retaliation) who plays Seth Gecko; Zane Holtz (Holes, The Perks of Being a Wallflower) as Richie Gecko; Jesse Garcia (Quinceañera, Sons of Anarchy) who plays Texas Ranger Freddie Gonzalez, a new character created for the series; Don Johnson (Django Unchained, Nash Bridges) who joins in a recurring role as Sheriff Earl McGraw; Robert Patrick (Terminator 2: Judgment Day, The X-Files) as Jacob Fuller; Madison Davenport (Save Me, Shameless) as Kate Fuller; Brandon Soo Hoo (Tropic Thunder, Ender's Game, Incredible Crew) as Scott Fuller and Eiza González (Lola: Érase Una Vez) as Santánico Pandemonium, and Wilmer Valderrama (That 70's Show) as Carlos.
"From Dusk Till Dawn: The Series" is an El Rey Network production in association with Rodriguez International Pictures, FactoryMade Ventures and Miramax. Executive producers are Robert Rodriguez, Carlos Coto (who is also showrunner) and FactoryMade Ventures and El Rey Network co-founders John Fogelman and Cristina Patwa. Diego Gutierrez is writer and co-executive producer. Robert Rodriguez will direct the first, second and fourth episodes.
Miramax, producing studio and distributor of the original film, is distributing the series internationally in all territories.
Entertainment One Television (eOne) and El Rey partnered earlier this week on an exclusive worldwide distribution agreement whereby eOne will represent DVD and EST rights in the US and Canada for "From Dusk Till Dawn: The Series" and will handle all media rights, with the exception of broadcast rights, for El Rey Network's slate of upcoming originals.