Sequel Bits: 'XXX 3', 'Conjuring 2', 'Purge 2', 'Entourage', 'Transformers 4'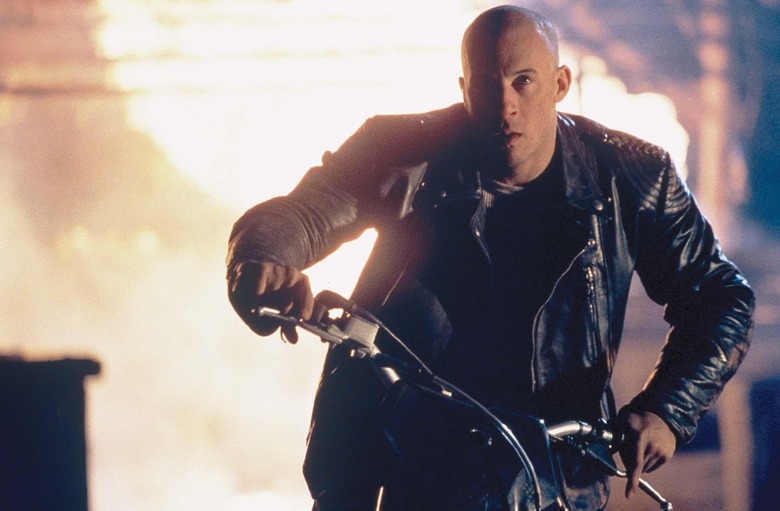 Vin Diesel has Fast & Furious 7 and a fourth Riddick movie coming up, and now he has XXX 3: The Return of Xander Cage to look forward to, too. Also after the jump:
Perrey Reeves will return as "Mrs. Ari" for the Entourage movie
Vera Farmiga says The Conjuring 2 is waiting on James Wan
The Purge sequel starts shooting in LA and picks up a new title
Lifetime is moving ahead with a Flowers in the Attic sequel
Here's a better look at Transformers' Bumblebee in robot mode
... and a more detailed synopsis of the movie
While never one of the shows' leads, she was an integral part of the show, appearing in 74 of the comedy's 96 episodes. Shooting on the film is currently underway in LA. [Deadline]
A Conjuring 2 seems inevitable, given the stellar box office performance of the first film, but so far there hasn't been much forward movement. According to star Vera Farmiga, that may have something to do with James Wan's busy schedule.
Saying she was "hoping to see Conjuring 2 sooner rather than later," the actress explained:
There are so many more stories to tell, and obviously it was a vital thing for New Line, and it seems implausible to not go for number 2 and even number 3. But, I don't know anything concrete just yet. I think it's being figured out right now. Because of course, we'd love to have James Wan at the helm, and he's experienced a certain measure of...stress recently.
Wan directed the first film but it's unclear at this point if he'll direct, or even produce, the second. For now, he's focusing on Fast & Furious 7. [AICN]
As production gets underway in Los Angeles, Universal's The Purge sequel seems to have picked up a new title. While the studio is still officially referring to the movie as The Purge 2, one report indicates that it'll actually be called The Purge: Anarchy.
The name fits with what we know of the plotline, which follows a group of people who get stuck out in the street during the one night of the year in which all crime is legal. Frank Grillo leads the cast, with James DeMonaco directing.
The movie won't land in theaters until June 20, but we could be sampling the results of the shoot sooner than we thought. The same report says that a 90-second teaser trailer will land in the very near future. [Shock Till You Drop, Variety]
Everything's coming up Vin Diesel this week. Just a couple of days ago, he announced that a fourth Riddick movie was in the works, and now he says that XXX 3: The Return of Xander Cage is coming along nicely as well.
The actor revealed the good news on Facebook, as is his wont.
As you know, the new XXX script finally comes in next month... and just this morning people are suggesting Katy Perry as the new X girl.
/smile
P.s. Who would you like to see me work with this year?
That shouldn't be interpreted as a confirmation that Perry will star in the movie, but it is clear that Diesel is a big fan of hers. The message above was accompanied by a clip of him dancing to her tune "Dark Horse," as was his Riddick reveal earlier this week. [Facebook]
Lifetime is moving ahead with Petals on the Wind, the sequel to their V.C. Andrews adaptation Flowers in the Attic. But first, it's getting rid of some Dollanganger kids.
Although Heather Graham, Ellen Burstyn, and Dylan Bruce are expected to return as Corrine, Olivia, and Bart, respectively, the younger Dollangangers — played by Kiernan Shipka, Mason Dye, Ava Telek, and Maxwell Kovach in the first film — will be replaced by older actors. That's because the new movie will pick up 10 years later, as Cathy and Christopher get their revenge on Corrine. [EW]
It seems Bumblebee is getting something of a makeover for Transformers: Age of Extinction. An image from the Carrera Toys product catalog shows his new look, which you can check out below: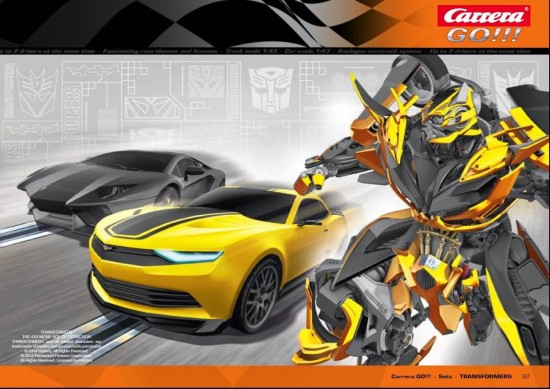 For comparison, this is his old robot form:

We also have some new details on what the humans will be doing while Bumblebee is admiring his new look in the mirror. Brazilian site Omelete posted the following spoiler-y synopsis (hat tip to TFW2005 for the translation):
Four years after the Battle of Chicago, the government is using reverse-engineered leftover technology to build their own Transformers. Joshua (Stanley Tucci) is an arrogant designer who believes the Autobots are "pieces of junk" and creating his own robots is a form of art. He's fills basically the same role as Agent Simmons from the previous trilogy.
Cade Yeager (Mark Wahlberg) is a widowed inventor who lives in a farm with his daughter Tessa (Nicola Peltz), unaware that she's dating a race car driver, Shane (Jack Reynor). Cade finds a piece of Cybertronian technology and takes it back to his farm, but it is accidentally activated, leading the government and alien bounty hunters to his farm. The bounty hunters (it's unclear if they're connected to the Decepticons) have antigravity weapons which they use to abduct Tessa. In another scene, an entire transatlantic cruise ship is raised out of the ocean and crosses through a busy intersection while the protagonists are in the middle of a car chase.
Sophia Myles is playing Darcy, Joshua's assistant and an archaeologist. Cade, Tessa, Shane, Joshua and Darcy are the main human character, and the main subplot is Shane trying to prove his worth to Cade. Also, Cade addresses Bumblebee as "Bee" and calms him down when Joshua trash-talks him, indicating he might be Bumblebee's new owner.
Titus Welliver's character, Savoy, is the leader of a team of agents sent by Harold Attinger (Kelsey Grammer) to capture the protagonists.
Paramount hasn't confirmed all these new details, but as they line up with what we already know about the movie, we're inclined to believe them. Transformers: Age of Extinction opens June 27. [TLAMB, TLAMB]