M. Night Shyamalan And Bruce Willis Reunite For 'Labor Of Love'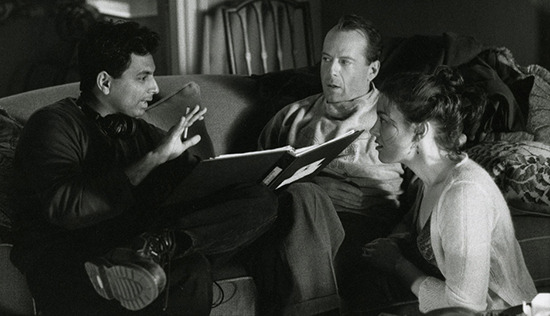 M. Night Shyamalan broke out big with The Sixth Sense, which starred Bruce Willis, and the two worked together on the follow-up Unbreakable. Now they're back together once more for a film called Labor of Love.
It's actually an old project in many ways, as the original script is one that Shyamalan wrote decades ago and sold to Fox in 1993. (The script is pretty readily available online.) He wanted to direct the film then, but with only the low-budget indie Praying With Anger to his name, Fox reportedly wasn't interested in buying his directorial services.
Now the film is back in action, and will have Willis in the role of  "a Philadelphia book store owner who loses the love of  his life in a tragic accident." The main character is haunted by the notion that he never properly expressed his love to his wife, and so he decides to act on a question she once asked: would you walk across the country for me? He makes that trek, from Philly to California.
Deadline says the current plan is for shooting to begin in September in Philadelphia. Will this story reverse the downward slide of fortune the director has endured (or built for himself) over the past few years?