'The Fault In Our Stars' Trailer: Shailene Woodley Falls In Love For The First Time, Again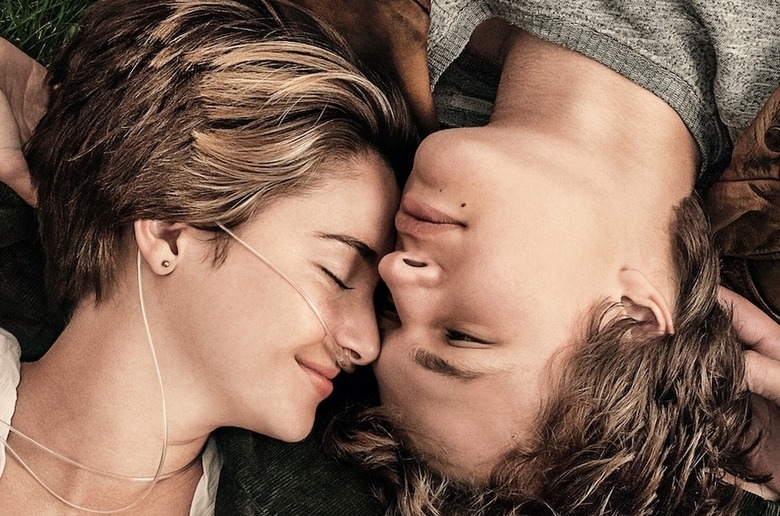 Last year, screenwriters Scott Neustadter and Michael H. Weber brought us The Spectacular Now, a smart, tender YA adaptation about first love. This year, they're mining similar territory with The Fault in Our Stars, based on John Green's bestselling novel. They even have Shailene Woodley starring once again.
This time, she plays Hazel Grace Lancaster, who falls for fellow cancer patient Augustus Waters (Ansel Elgort) after meeting him in a support group for sick teens. Josh Boone directs, with Nat Wolff, Laura Dern, Sam Trammell, and Mike Birbiglia in supporting roles. Watch the first trailer after the jump.
Augustus initially comes across as kind of creepy, with the staring and all, and then as kind of cliched, with his insistence that she tell him his story. (I'm fairly certain that Miles Teller tried the exact same line on Woodley in The Spectacular Now.) But damn it if he, and the trailer as a whole, didn't win me over by the end. It reminds me a bit of The Perks of Being a Wallflower, in that the same thing that makes it obnoxious — its teenage earnestness — is also the same thing that makes it lovable.
The Fault in Our Stars opens June 6. Bring tissues; this one is an obvious tearjerker.
Hazel and Gus are two extraordinary teenagers who share an acerbic wit, a disdain for the conventional, and a love that sweeps them — and us – on an unforgettable journey. Their relationship is all the more miraculous, given that they met and fell in love at a cancer support group. THE FAULT IN OUR STARS, based upon the number-one bestselling novel by John Green, explores the funny, thrilling and tragic business of being alive and in love.