Richard Linklater Reunites With 'Waking Life' Team For 'The Incredible Mr. Limpet' Remake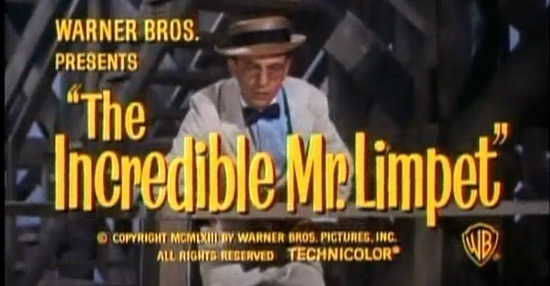 The Incredible Mr. Limpet, which in the '60s had Don Knotts voicing an animated fish that helped the US Navy seek out Nazi subs during WWII, is one of those projects that has been developed as remake fodder for years. There was a point when Steve Oedekerk might have directed, and Brad Bird was a choice to succeed him. At that point the studio wanted Jim Carrey to voice Limpet — and even knocked together some concept art featuring Carrey's face on a fish. It was the  stuff of unpleasant dreams, if not exactly nightmares.
Now Mr. Limpet is swimming upstream towards the big screen again, with Richard Linklater set to direct after being rumored for the gig a few years ago. And Linklater has his old compatriots in rotoscoped animation along for the ride: Femke Wolting and Tommy Pallotta, who both worked on Waking Life and A Scanner Darkly.
Screen Daily reports that even as Wolting and Pallotta finish their live-action/animated hybrid The Last Hijack, about a Somali pirate excursion, they have begun work on designs for Mr. Limpet. They won't be putting Jim Carrey's face on a fish, however. Zach Galifianakis is rumored to star, so if anyone's mug will adorn a fish, it'll probably be his.
Is that the key factor here? Did Linklater need a proper partner (or set of partners) to tackle the animation in the film before really diving in? Or has he just been busy finishing up Before Midnight and Boyhood, and doing various promotion for the Before series? Probably some combination of all those factors.
And while Linklater's broad, studio-based efforts often aren't as strong as his indie work, there's definitely an appeal to him working once more with some of the team that did great animation for him in the past, especially with new techniques that they've worked up for projects in the years since A Scanner Darkly.