'True Romance' Festival Taking Place May 2-3 In Burbank, CA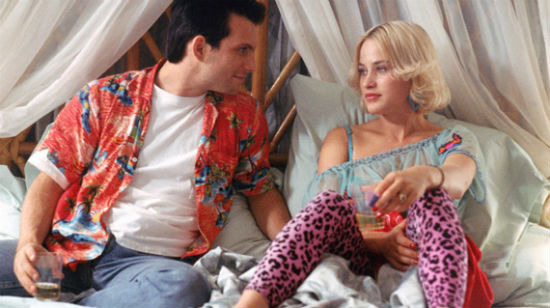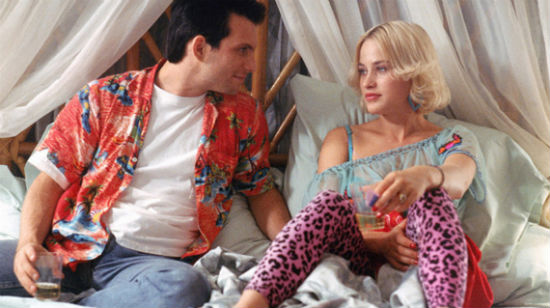 This is so cool. The Quentin Tarantino-written, Tony Scott-directed film True Romance celebrated its 20th anniversary last year. Though it's a bit late, a huge celebration of the film is set for May 2-3 in Burbank, CA. The event will take place at the Safari Inn Motel, the same place Clarence (Christian Slater) and Alabama (Patricia Arquette) go before their wild adventure comes to an end. Bronson Pinchot is hosting the two day event which includes signings, meet and greets, parties, karaoke, prop displays, never before seen behind the scenes photos and, of course, a sunset outdoor screening of the film with costume contest.
Tickets and VIP hotel packages go on sale February 3 at this page. You can read more there, and here's the official press release.
It's been over 20 years since True Romance hit theaters. Now Sean Healy and Dan Storm Productions are proud to present the True Romance Fest, an unforgettable 2-day weekend event at the world- famous Safari Inn of Burbank, CA. On location where one of the most intense scenes in the film between Patricia Arquette. James Gandolfini and Christian Slater was shot, the exclusive gathering (Fri. May 2nd & Sat. May 3rd) will be hosted by the film's very own Bronson Pinchot (Elliot Blitzer).
On Friday, VIP festival attendees can enjoy a day at the pool and then relax at a drink mixer in the evening, along with special guests to be announced, followed by karaoke True Romance style!
Saturday begins with a hearty breakfast and meet & greet with Bronson Pinchot, and culminates with an outdoor sunset screening of the cult classic, True Romance, starring Christian Slater and Patricia Arquette. Fans are encouraged to dress up as their favorite characters for our costume contest and take pictures in the "you're so cool" True Romance photo booth. There also will be a display of original movie props, including Clarence and Alabama's wedding rings, as well as over 500 stills from the film, many of which have never been seen by the public. Q&A with cast and crew follows the show.
This is a one-of-a-kind, premier event that will celebrate this classic film from writer Quentin Tarantino, director Tony Scott, and a long list of renowned actors – including Brad Pitt, Gary Oldman, Christopher Walken, Dennis Hopper, Samuel L. Jackson, James Gandolfini, Michael Rapaport, and Bronson Pinchot. Space is VERY limited and expected to sell out. Hotel and VIP packages are available beginning February 3rd.
All the pertinent info is at www.trueromancefest.com.