Chris Pratt Confirms 'Jurassic World,' Says "Jurassic Park Was My Star Wars"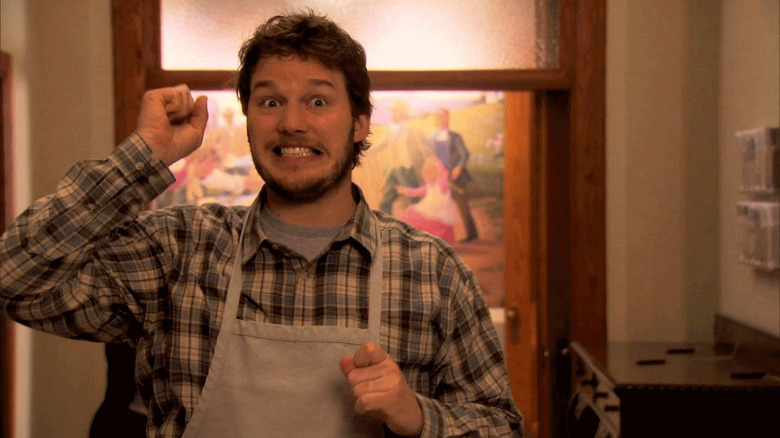 Ron Howard let slip earlier this month that Chris Pratt had been set for Colin Trevorrow's Jurassic World, months after he was first rumored. Now we have another confirmation, this time straight from the actor's lips.
"I'm thrilled about it," said Pratt of his casting. His excitement apparently stems from a long-term affection for the franchise — he called the first film "my Star Wars." Hit the jump to learn more about his high-profile new gig.
For me, Jurassic Park was really kind of my Star Wars. I lined up at the theatre to see it, I saw it opening night, I saw every sequel, I've seen it a whole bunch of times... for me that was my big movie, I think I was 13 or 14 when it came out. And so it's a big deal for me to be any part of that, let alone this part I'm going to be playing. I'm thrilled about it.
Details about Jurassic World are still scarce, but we know it won't be a reboot per se. Instead, the story will pick up 22 years after the events of Jurassic Park, with a new cast of characters. Trevorrow has also hinted that the action will take place in Isla Nubar. Pratt is reportedly playing a rugged ex-military man named Owen who butts heads with a corporate scientist played by Bryce Dallas Howard.
Pratt, who currently stars on NBC's Parks & Recreation, isn't really new to Hollywood. He had his first breakthrough role on the WB drama Everwood and has been acting steadily ever since. But he's poised to become bigger than ever in the next couple of years, with juicy roles in The Lego Movie, Guardians of the Galaxy, and now, Jurassic Park.
Not surprisingly, the actor seems quite thrilled about his recent hot streak. "Dude, you gotta take it while it's here," he said. "I'll take it."
Jurassic World opens June 12, 2015. Ty Simpkins and Nick Robinson are also set to appear, as a pair of brothers.