Exclusive: Acme Archives And DreamWorks Animation Team Up Beginning With 'Kung Fu Panda'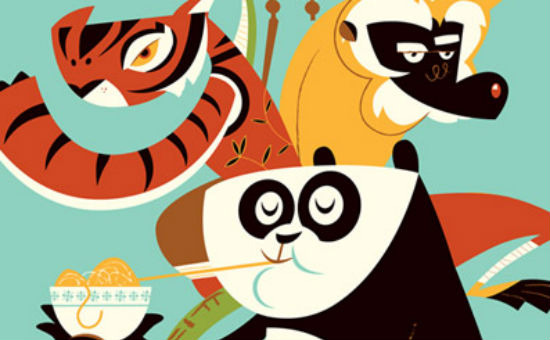 Fans of DreamWorks Animation titles like Kung Fu Panda and How To Train Your Dragon have reason to celebrate today. They've teamed up with Acme Archives to do official posters for their popular films and we're proud to debut the first of the bunch. It's Kung Fu Panda by Dave Perillo and it'll go on sale January 31. Check out both versions of the poster below.
Here are the regular and variant editions of Perillo's piece, which will go on sale at DarkInkArt around 10:30 a.m. PST January 31.
The blue regular is a 12 x 24 inch silk screen in an edition of 200. The orange variant is an edition of 50 and both cost $50.
DreamWorks has two big films coming out in 2014, How to Train Your Dragon 2 and Mr. Peabody and Sherman, and Acme will likely have posters for both. Keep an eye on @AcmeArchives for the continuing adventures of this new collaboration.