Kevin Smith's Tusk Release Date Revealed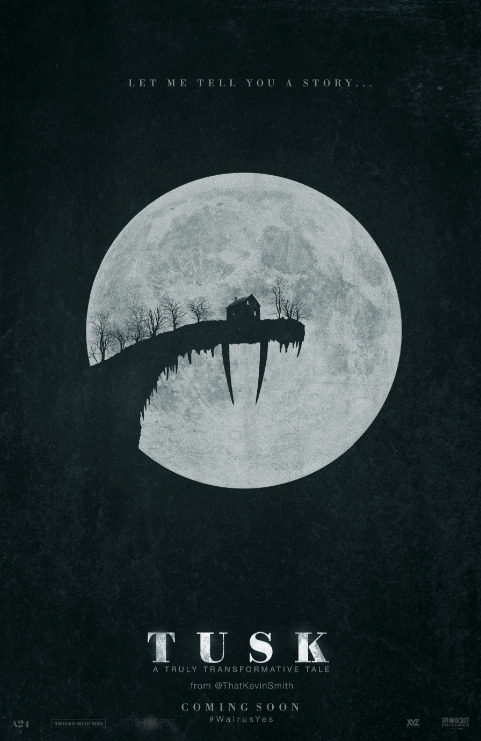 Kevin Smith's new horror film Tusk is set to premiere a trailer at Comic Con next week, and the film now has an official release date. Get more details on the Tusk release date after the jump.
A24 has set a release date for Kevin Smith's upcoming horror film Tusk:
 Tusk Release Date: September 19th 2014
A24 will distribute the movie domestically with a wide release and XYZ films is handing international rights. A24 has released Spring Breakers, The Spectacular Now, The Bling Ring, and the Sundance films Locke, Obvious Child and Laggies.
Kevin Smith and stars Genesis Rodriguez and Haley Joel Osment are set to reveal the official trailer for Tusk in Hall H at San Diego Comic Con International as part of THE MUSK OF TUSK: AN EVENING WITH KEVIN SMITH on Friday, July 25th from 6:35pm – 8:05pm. Here is the official statement:
"After all the interesting and exciting movie panels are over, Hall H belongs to a middle-aged man who once worked with BatFleck! Ask ComiKev questions and get ready to say #WalrusYes as Kev premieres the trailer to his first film in three years: the twisted, transformative tale of Tusk! Wrap up a busy Friday with the Clown Prince of Comic-Con!"
What follows is the official press release from January announcing the film's distribution:
XYZ FILMS TO HANDLE INTERNATIONAL SALES RIGHTS TO KEVIN SMITH'S HIGHLY-ANTICIPATED MONSTER MOVIE 'TUSK'
A24 plans a wide theatrical release in the third quarter of 2014
Film stars Justin Long, Haley Joel Osment Genesis Rodriguez and Michael Parks
Los Angeles, CA (January 23, 2014) – XYZ Films has partnered with Demarest Films and A24 on Kevin Smith's epic new horror film, TUSK, coming aboard to handle all international sales rights. The film, also written by Smith and born out of one of his immensely popular SModcasts, stars Justin Long, Haley Joel Osment, Genesis Rodriguez and Michael Parks. Demarest (A MOST WANTED MAN, MACHETE KILLS) financed and produced TUSK in partnership with New York-based distributor A24 (SPRING BREAKERS, THE BLING RING), who will release it wide in the third quarter of 2014. XYZ will be introducing the project, currently in production, to international buyers at the European Film Market in February.
TUSK is a modern-day monster movie that follows a journalist named Wallace (Long) who finds the story of a lifetime in Mr. Howe (Parks), a worldwide adventurer with amazing tales and a curious penchant for walruses.
"It's an honor to support the work of Kevin Smith, a filmmaker we've revered for years. His bold and uncompromising vision for TUSK is a game-changer and one that we know will yield a memorable film that will leave audiences breathless," says XYZ Films.
Demarest's Sam Englebardt commented: "XYZ Films has incredible taste, particularly in the world of horror, so we are thrilled that they will be our partner on this groundbreaking film from Kevin Smith."
Tusk was produced by Sam Englebardt, William D. Johnson, and David Greathouse for Demarest Films and Shannon McIntosh for Smith's SModcast Pictures banner. Jennifer Schwalbach is executive producer.
XYZ executive produced and handled international sales on the hit action film THE RAID: REDEMPTION, which was released by Sony Pictures Classics. They are also handling international sales on Sundance competition film LIFE AFTER BETH, starring Aubrey Plaza, Dane DeHaan, Anna Kendrick, John C. Reilly, Molly Shannon, Matthew Gray Gubler, Cheryl Hines, and Paul Reiser.
XYZ Films produced and is handling world sales on THE RAID 2, from writer/director Gareth Huw Evans as well as KILLERS, which is co-directed by Timo Tjahjanto and Kimo Stamboel (The Mo Brothers). Both films are world premiering at Sundance 2014. XYZ also executive produced horror film DEAD SNOW: RED VS. DEAD, which also has its world premiere at Sundance.
About XYZ Films:
XYZ FILMS is an LA-based film production and sales company founded in 2008 by Bolotin, Spicer and Tertzakian, with partner Todd Brown joining the company in 2009.
About Demarest Films:
Funded with private capital, Demarest produces and finances a wide range of film and television projects. The firm was founded in 2011 by Johnson, Englebardt, and Michael Lambert.
About A24:
Launched in the summer of 2012, A24 is a New York-based media company focused on the distribution, financing and production and feature films.