First Look: Jeff Bridges Gets Into Dystopian YA With 'The Giver'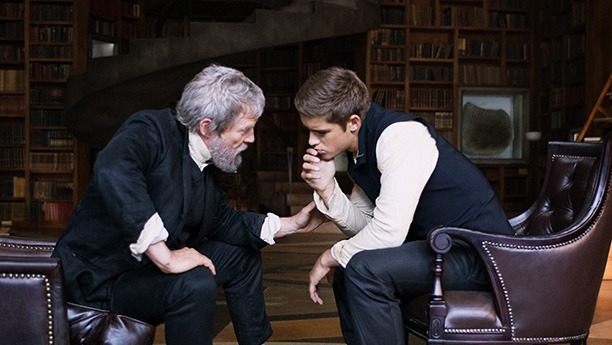 It'd be easy to assume that Philip Noyce's The Giver is just another Hunger Games knock-off, given that it's yet another YA adaptation set in a dystopian universe. But in truth, it's a film that Jeff Bridges has been working on for almost twenty years — way back before Katniss Everdeen was even a twinkle in Suzanne Collins' eye. Heck, before J.K. Rowling introduced the world to Harry Potter.
Based on the novel by Lois Lowry, The Giver unfolds in a seemingly utopian society which has not just eliminated, but completely forgotten concepts like war and poverty. When protagonist Jonas (Brenton Thwaites) comes of age, however, he learns that this pain-free existence comes at a cost. He is chosen to bear the burden of remembering the past so that others won't have to, and begins to receive memories from the Giver (Bridges).
The first images from the film have just been released, and you can check them out after the jump.
In the accompanying interview, Bridges and Noyce discussed some of the major themes of the story, as well as some of the changes they've made to it. The first and most obvious update is that Jonas is now 16 (and being played by a 25-year-old), instead of 12, as he was in the novel. Bridges admitted that he "originally kind of balked" at that decision, but said that ultimately came around. "We were so lucky to have Thwaites play this role. He does a beautiful job," he said.
Noyce explained that aging up the characters allowed them to raise the stakes. Specifically, they were able to turn a subplot about Jonas' flirtation with a fellow pre-teen into "almost a love affair." They've also expanded the role of the community's Chief Elder, played by Meryl Streep.
Those alterations are bound to inspire skepticism in some fans, but Bridges stressed that they'd worked closely with the author to bring her vision to life. "I was happy to hear from Lois that she wasn't so concerned about all the facts being the same as in the book," he said. "The spirit of the story is there."
That includes the thoughtful themes Lowry put forth in her book. "The past is considered to be potentially polluting," said Noyce of Jonas's society. "This is a world where complications are eliminated. Jonas himself goes on a journey as he finds out what's missing. He starts to investigate what's causing it. And that's the beauty. That's what makes the book so popular, it's an investigation in ways of living."
The Giver opens August 15. Alexander Skarsgård, Taylor Swift, and Katie Holmes also star.