Joseph Gordon Levitt To 'Reach The Clouds' With Robert Zemeckis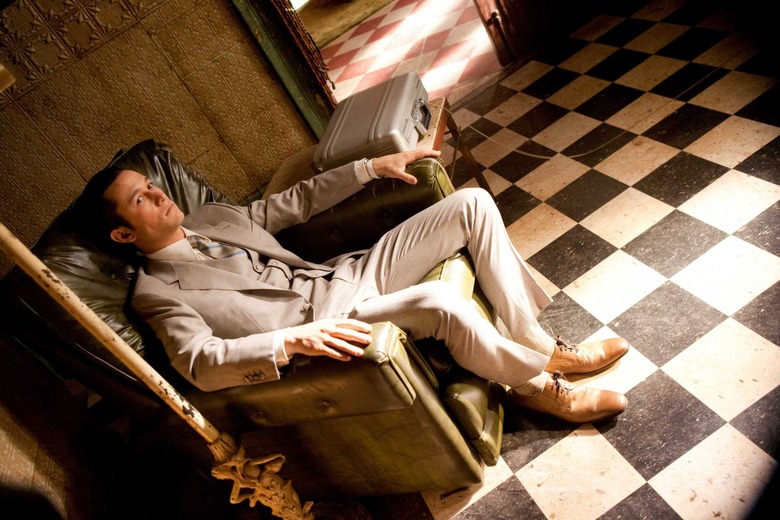 We see movie stars zipping around the New York City skyline (or at least a CG version of it) all the time, but it's usually in the context of superhero movies. For one of his next films, however, Joseph Gordon-Levitt will play a mere mortal who managed to do so without the benefit of web shooters, high-tech suits, freak genetic mutations, or otherwordly gifts.
Gordon-Levitt has taken the lead in Robert Zemeckis' To Reach the Clouds, about the French high-wire walker Philippe Petit. Among Petit's best known achievements is his 1974 World Trade Center walk, which was chronicled in the 2008 documentary Man on Wire. Hit the jump for more details on the project.
Petit then spent most of the next hour walking back and forth. Because he'd executed his stunt without official permission, he was arrested as soon as he stepped off the wire. However, his feat had attracted positive attention and all formal charges against him were dropped.
Zemeckis has had To Reach the Clouds on his radar since about 2011, but we haven't heard much about it since then. The director hasn't spoken about it much, aside from hinting that he plans to release the film in 3D.
Since 2012's Flight, Zemeckis has flirted with a number of projects including New Line's The Miraculous Journey of Edward Tulane, the documentary adaptation Marwencol, and the Charlie Kaufman-scripted YA adventure Chaos Walking. Gordon-Levitt's involvement in To Reach the Clouds suggests that it's coming together quickly, but it's not clear yet if it'll be Zemeckis' next movie.
Gordon-Levitt is similarly busy. He recently launched a new variety show, HitRecord on TV, and will be seen on the big screen later this year in Sin City: A Dame to Kill For. He's also been working on Warner Bros.' The Sandman, based on the comic book series by Neil Gaiman.