Bill Hader And Kristen Wiig Show Acting Chops In Charming 'The Skeleton Twins'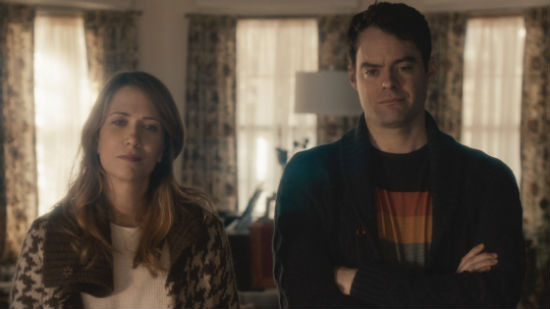 Editor's note: This is our review of The Skeleton Twins from this year's Sundance Film Festival. It opens in limited release this weekend so we are rerunning. 
When Bill Hader and Kristen Wiig were building their careers on Saturday Night Live, they played multiple characters every single week. That took incredible acting chops. Though they've since left the show and are concentrating mostly on comedy films, Craig Johnson's second film The Skeleton Twins proves these skilled comedic performers can be dramatic as well.
The Skeleton Twins is about estranged siblings, Maggie and Milo, who haven't spoken in a decade. After they are reunited by tragedy their relationship is quickly rekindled, but deep old wounds re-open. That may sound overly solemn and, at its heart, The Skeleton Twins is certainly a drama. But you don't cast Hader and Wiig just to cry and be depressed. The chemistry they built for years on TV sizzles on the big screen in characters with an exuberant realism. The movie itself is good, but Hader and Wiig make it great.
Johnson co-wrote The Skeleton Twins with Black Swan screenwriter Mark Heyman and the screenplay hits all the beats you've come to expect from a dramedy such as this. There's a fantastic dance sequence, strong supporting characters (Luke Wilson and Ty Burrell among them), sex, secrets, lies and improvised farting in a dentist office. Well, maybe the last one isn't expected. But as the story of Maggie and Milo develops, this seems evident as a well-written, well-directed movie that probably isn't going to surprise anyone.
Then again, Kristen Wiig and Bill Hader are the stars. And each gives a dynamic performance of sad, broken individuals who light up each other's lives. Their chemistry is second to none, and when these characters played by these actors are put into this story, everything around them becomes that much more interesting, funny and exciting. With such strong comedic energy on screen, you never quite know what Maggie or Milo will do next. Even when they're playing a suicide attempt, there's a vibrant unpredictability.
Jim Carrey had The Truman Show, Adam Sandler had Punch-Drunk Love and Tom Hanks had Philadelphia. The Skeleton Twins is that movie for Bill Hader and Kristen Wiig. They're absolutely wonderful to watch. Plus the movie is pretty good too.
/Film rating: 8.5 out of 10
(Lionsgate and Roadside Attractions picked up the rights to distribute The Skeleton Twins. Check it out later this year.)