Star Wars Bits: Darth Vader, 'Plastic Galaxy', Original Trilogy Set Photos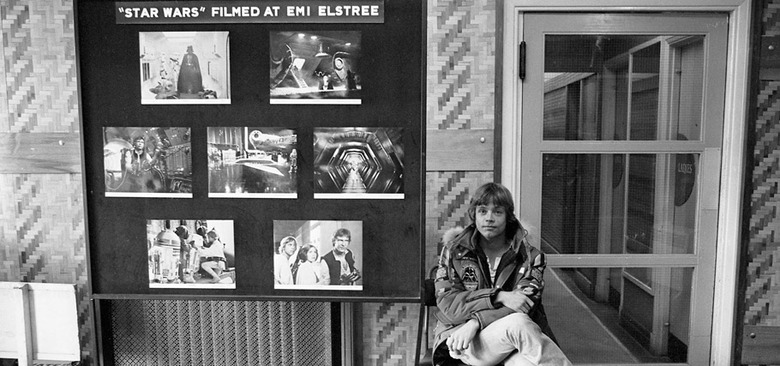 Get your glasses on, because we've got a lot to look at in this edition of Star Wars Bits. After the jump:
Plastic Galaxy: The Story of Star Wars Toys hits DVD
Peruse some gorgeous fan-made posters for Episode VII
... and some others for Episodes IV through VI
Check out more making-of photos from the original trilogy
See Darth Vader ride a unicycle while playing the bagpipes
Plastic Galaxy: The Story of Star Wars Toys delves into "the toys' history, their influence, and the fond and fervent feelings they elicit today," through tours of famed collections and interviews with collectors, experts, and Kenner employees. See the trailer below:
The DVD, which includes 40 minutes of extras, is available through the official website now. [via Rebel Scum]
Disney has yet to release any Star Wars Episode VII marketing materials, but until they do we have plenty of fan art to feast our eyes on. Like this gorgeous series of posters, which manage to feel very Star Wars yet quite modern.
There's more where that came from at skullboy2772's Tumblr.
Meanwhile, the original trilogy continues to inspire artists like Marko Manev, who unveiled the striking three-image set below.
Sadly, these posters don't appear to be for sale anymore. You'll have to settle for ogling them on your computer. [via Collider]
The making of George Lucas' Star Wars series has been documented in exhausting detail, and yet we never seem to tire of photos from the set. There's something delightful about seeing the cast construct Tatooine by hand, or the Wampa wait around with his head off, Mark Hamill and Carrie Fisher goof of between takes.
One fan enjoys these pictures so much, he's compiled 1,138 of them into eleven extensive albums, which you can check out at Imgur. There are much more than we could possibly show here, of course, but here are just a few of my favorites.
This one is kind of old news, but you'll definitely want to see it if you haven't yet. And if you have, you may want to watch it again.
Jimmy Kimmel recently brought on Portland musician Brian Kidd, a.k.a. the Unipiper, who got Internet famous via a video of himself playing the Star Wars theme... on a bagpipe... which shoots flames... while riding a unicycle... and wearing a Darth Vader head. Really. Watch the original below.
Kimmel wanted to see if Kidd could replicate his stunt, flames and all, at the Jimmy Kimmel Live! studio.
Even Meryl Streep and Joseph Gordon-Levitt were impressed. [via Laughing Squid]