'Better Living Through Chemistry' Trailer: Sex, Drugs, And Olivia Wilde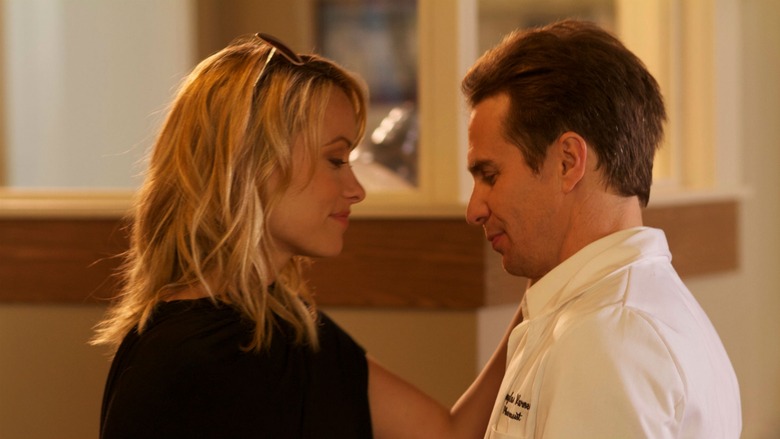 Sam Rockwell is currently at Sundance promoting his new comedy Laggies, but in the meantime another of his projects is nearing a theatrical release. Geoff Moore and David Posamentier's Better Living Through Chemistry was picked up by Samuel Goldwyn Films earlier this month, and is now slated to hit theaters in March.
The comedy, which Moore and Posamentier also wrote, centers around Douglas, a small-town pharmacist who can cure everyone's problems — say it with me now — but his own. That is, until he meets gorgeous, seductive, rich trophy wife Elizabeth (Olivia Wilde) who turns him onto sex, drugs, and possibly murder.
Also starring are Michelle Monaghan as Douglas' wife, Ray Liotta as Elizabeth's husband, and Ben Schwartz as a pharmacy delivery boy or something. Watch the new trailer after the jump.
Better Living Through Chemistry has been kicking around for a while, and at one point early on had Jeremy Renner in the Rockwell role and Jennifer Garner in the Wilde one. Rockwell and Wilde seem like much better fits for the characters, however, to the extent that I'm wondering if the parts have evolved significantly since Renner and Garner were first cast.
Between the famous-but-not-quite-A-list cast and the offbeat vibe, Better Living Through Chemistry looks exactly like the kind of movie that'd premiere quietly at Sundance or similar and then fade into obscurity. The first part didn't happen — the film has never hit the festival circuit as far as we know — but the second still could.
The trailer feels tired somehow, even though it's not every day we get a comedy about possibly deadly affairs involving prescription drugs. Here's hoping it's just a case of bad editing, because it'd be a shame to waste these actors.