More Sundance Acquisitions: 'The Skeleton Twins,' 'God's Pocket' And 'Cold In July'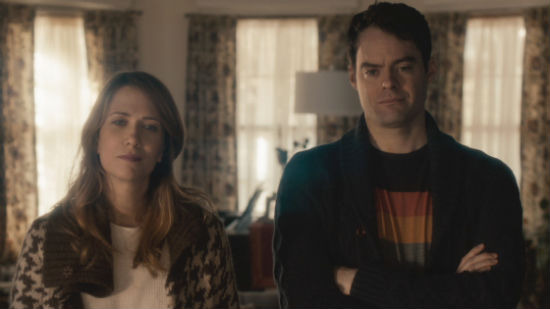 Three more high-profile films just joined the ranks of 2014 Sundance Film Festival titles that will receive theatrical distribution. The latest deals involve Lionsgate and Roadside Attractions splitting the Bill Hader/Kirsten Wiig dramedy The Skeleton Twins; IFC purchasing Jim Mickle's genre-bending thriller Cold In July, starring Michael C. Hall; and the star-studded God's Pocket, directed by John Slattery. Read more below.
Deadline broke the news of the deals for God's Pocket as well as Cold In July. Click on each to read the specifics but I will say Cold in July is fantastic and I haven't heard one overly positive thing about God's Pocket.
As for The Skeleton Twins, we'll have a review later this week and buzz has been super solid. Here's the full press release.
Lionsgate and Roadside Attractions, and Sony Pictures Worldwide Acquisitions (SPWA) each announced today that the respective companies have acquired rights in all territories to Craig Johnson's drama THE SKELETON TWINS. Lionsgate and Roadside Attractions have jointly acquired US rights to the film, while SPWA is taking all worldwide rights outside of the US. Lionsgate and Roadside Attractions are planning a theatrical release for the feature film in late summer 2014
THE SKELETON TWINS premiered this week in the US Dramatic Competition at the 2014 Sundance Film Festival. Co-written by Johnson and Mark Heyman, the film stars Bill Hader, Kristen Wiig, Luke Wilson, and Ty Burrell. A Duplass Brothers and Venture Forth Production, THE SKELETON TWINS is produced by Stephanie Langhoff, Jennifer Lee, and Jacob Pechenik, and executive produced by Mark Duplass, Jay Duplass, and Jared Ian Goldman. THE SKELETON TWINS was fully financed by Venture Forth.
Howard Cohen, Roadside Attractions Co-President, stated, "Bill Hader and Kristen Wiig give brilliant, breakout performances as a live wire but also out of control brother and sister who have to reconnect, and we fell in love with Craig Johnson's amazingly assured film."
In THE SKELETON TWINS, when estranged twins Maggie and Milo feel that they're at the end of their ropes, an unexpected reunion forces them to confront why their lives went so wrong. As the twins reconnect, they realize the key to fixing their lives may just lie in repairing their relationship.
Craig Johnson's first feature film, TRUE ADOLESCENTS, starring Mark Duplass and Melissa Leo, premiered at the 2009 SXSW Film Festival. He has written two films for 20th Century Fox and was a member of the inaugural Fox Writers Studio. He holds an MFA from NYU's graduate film program and a BA in theatre from the University of Washington. THE SKELETON TWINS is his second feature.
The deals were negotiated by Jason Constantine, Lionsgate's President of Acquisitions and Co-Productions, along with Eda Kowan and Wendy Jaffe on behalf of Lionsgate; Cohen on behalf of Roadside Attractions; SPWA's Michael Helfand, Joe Matukewicz and Jon Freedberg for international territories; ICM Partners and UTA Independent Film Group on behalf of the film; with Jonathan Gray and André Des Rochers of Gray Krauss Stratford Sandler Des Rochers on behalf of the producers.