Sundance Deals: Sci-Fi Stunner 'I Origins' And 'The Night Comes For Us Next'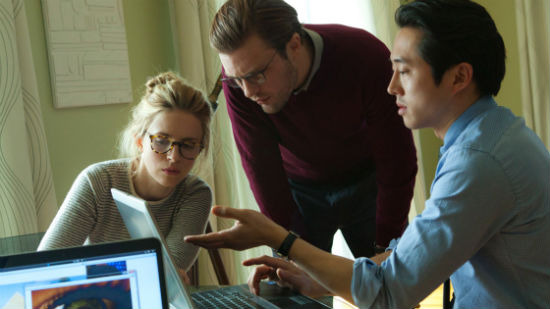 If you aren't in Park City, Utah for the 2014 Sundance Film Festival, the news you really want to follow is what films are getting picked up for distribution. That means you'll get a chance to see them eventually and, so far, it's happened for a few: Happy Christmas, Whiplash, Laggies, Dinosaur 13 and Wish I Was Here have all been bought.
Add two more titles to the list: Mike Cahill's sci-fi film I Origins, which was picked up by Fox Searchlight, and The Night Comes For Us Next which...technically...didn't play Sundance because it hasn't been shot yet. But its two principal filmmakers are here, The Raid 2's Gareth Evans, who's producing, and Killers' director Timo Tjahjanto, directing. Radius/TWC picked up the soon-to-be action film. Read more below.
First up, here's the official press release on The Night Comes For Us Next:
RADiUS-TWC is proud to announce that it has acquired North American rights to the upcoming action thriller THE NIGHT COMES FOR US, which will reunite Timo Tjahjanto (KILLERS, THE ABCs OF DEATH) and Gareth Evans (THE RAID: REDEMPTION) for their second collaboration behind the camera. Timo will direct while Gareth will produce and handle action direction.
THE NIGHT COMES FOR will also reunite the stars from the highly-successful THE RAID: REDEMPTION, with martial arts phenom Iko Uwais providing the film's action choreography. Taslim (also seen in the 6th installment of THE FAST AND THE FURIOUS) and Yayan Ruhian will star in the lead roles.
Evans will produce alongside Maya Barack Evans of PT Merantau Films and XYZ Films' Nate Bolotin, Aram Tertzakian, Nick Spicer and Todd Brown.
This crime thriller centers around a mobster (Taslim) who returns to his local crime family in Jakarta only to find himself trapped in a word of betrayal and chaos.
According to RADiUS co-presidents Tom Quinn and Jason Janego: "Timo and Gareth are leading the way for a whole new generation of genre directors. We're big fans of theirs and couldn't be more excited to come aboard early."
XYZ Films goes on to say:  "We are thrilled to collaborate with RADiUS on what we believe will be the next chapter in action film from Indonesia. Tom and Jason's genuine passion for the genre and support of the filmmaking team's vision is precisely what we are looking for in a North American distribution partner.
RADiUS has slated a 2015 release.
And here's the press release for I Origins, a film Peter loved.
Fox Searchlight Pictures Presidents Stephen Gilula and Nancy Utley announced today that the company has acquired worldwide rights to the existential drama I ORIGINS. Directed and written by Mike Cahill, I ORIGINS is his second feature following ANOTHER EARTH which Fox Searchlight acquired at Sundance in 2011. The film stars Michael Pitt, Brit Marling, Astrid Bergès-Frisbey, Steven Yeun and Archie Panjabi with Cahill, Hunter Gray and Alex Orlovsky serving as producers. The film is scheduled to be released in 2014.
"Mike Cahill's impressive second feature makes you question our very place in the universe by merging the scientific and emotional worlds in a deeply affecting way," said Utley and Gilula. "The film boasts a superb cast led by Michael Pitt, and it is great to be reunited with Mike and Brit."
"I am so excited to once again be home at Fox Searchlight, a place that I believe embraces creative passion and the future of cinematic storytelling," said Cahill.
"I ORIGINS is a very special film for us at Verisimilitude. We know that Fox Searchlight is the perfect home for Mike's innovative and utterly original work," said Gray and Orlovsky.
Written and directed by Mike Cahill, and starring Michael Pitt, Brit Marling, and Astrid Bergès-Frisbey, I ORIGINS follows a molecular biologist whose study of the human eye points to evidence with far reaching implications about our scientific and spiritual beliefs.
The deal was brokered by Fox Searchlight's Executive Vice President of Worldwide Acquisitions Tony Safford, Senior Vice President of Business Affairs Megan O'Brien and Vice President of Acquisitions & Co-Productions Ray Strache with WME Global and Andre des Rochers on behalf of the film and Shelley Surpin on behalf of the director. I ORIGINS is a Verisimilitude / WeWork Studios Production.
Fox Searchlight Pictures is a specialty film company that both finances and acquires motion pictures. It has its own marketing and distribution operations, and its films are distributed internationally by Twentieth Century Fox. Fox Searchlight Pictures is a unit of 20th Century Fox Film.