'12 Years A Slave' And 'Gravity' Tie At Producers Guild Awards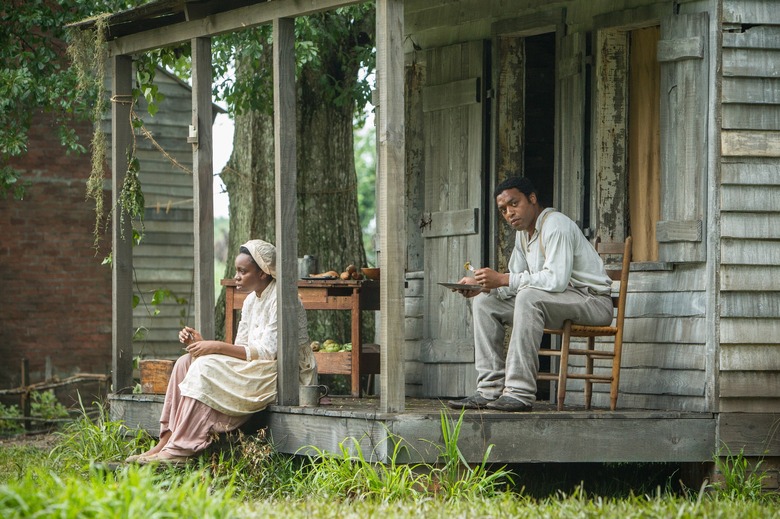 American Hustle took home the big prize at the SAG Awards on Saturday night, but as it turned out, its moment in the sun was fleeting. 12 Years a Slave and Gravity regained their awards season momentum at the Producers Guild of America Awards on Sunday night, as both won the top trophy in a tie — the first ever in PGA history.
The results are a blow to American Hustle's Oscar odds, since the PGA Awards are a fairly reliable predictor of the Best Picture trophy. Of the past 24 Darryl F. Zanuck Award winners, 17 have gone on to win Best Picture. The last time the two awards didn't match up was 2006, when the PGA chose Little Miss Sunshine over The Departed.
Elsewhere, Frozen and We Steal Secrets: The Story of WikiLeaks won prizes for best animated picture and best documentary, respectively, while Behind the Candelabra and Breaking Bad continued to steamroll the competition in the long-form TV and TV drama categories. Hit the jump for the full list of results.
Gravity (Warner Bros. Pictures)
Producers: Alfonso Cuarón, David Heyman
12 Years a Slave (Fox Searchlight Pictures)
Producers: Anthony Katagas, Jeremy Kleiner, Steve McQueen, Brad Pitt and Dede Gardner
The Award for Outstanding Producer of Animated Theatrical Motion Pictures:Frozen (Walt Disney Studios Motion Pictures)
Producer: Peter Del Vecho
The Award for Outstanding Producer of Documentary Theatrical Motion Pictures:We Steal Secrets: The Story of WikiLeaks (Focus Features)
Producers: Alexis Bloom, Alex Gibney, Marc Shmuger
The David L. Wolper Award for Outstanding Producer of Long-Form Television:Behind the Candelabra (HBO)
Producers: Susan Ekins, Gregory Jacobs, Michael Polaire, Jerry Weintraub
The Norman Felton Award for Outstanding Producer of Episodic Television, Drama:Breaking Bad (AMC)
Producers: Melissa Bernstein, Sam Catlin, Bryan Cranston, Vince Gilligan, Peter Gould, Mark Johnson, Stewart Lyons, Michelle MacLaren, George Mastras, Diane Mercer, Thomas Schnauz, Moira Walley-Beckett
The Danny Thomas Award for Outstanding Producer of Episodic Television, Comedy:Modern Family (ABC)
Producers: Paul Corrigan, Abraham Higginbotham, Ben Karlin, Elaine Ko, Steven Levitan, Christopher Lloyd, Jeffrey Morton, Dan O'Shannon, Jeffrey Richman, Chris Smirnoff, Brad Walsh, Bill Wrubel, Danny Zuker
The Award for Outstanding Producer of Non-Fiction Television:Duck Dynasty (A&E Networks)
Producers: Deirdre Gurney, Scott Gurney, Mike Odair, Hugh Peterson, Adam Saltzberg, Charlie Van Vleet
The Award for Outstanding Producer of Live Entertainment and Talk Television:The Colbert Report (Comedy Central)
Producers: Meredith Bennett, Stephen T. Colbert, Richard Dahm, Paul Dinello, Barry Julien, Matt Lappin, Emily Lazar, Tanya Michnevich Bracco, Tom Purcell, Jon Stewart
The Award for Outstanding Producer of Competition Television:The Voice (NBC)
Producers: Stijn Bakkers, Mark Burnett, John de Mol, Chad Hines, Lee Metzger, Audrey Morrissey, Jim Roush, Kyra Thompson, Nicolle Yaron, Mike Yurchuk, Amanda Zucker
The Award for Outstanding Sports Program:SportsCenter (ESPN)The Award for Outstanding Children's Program:Sesame Street (PBS)The Award for Outstanding Digital Series:Wired: What's Inside