'Life Itself' Is A Beautiful Tribute To Movies, Criticism, And Of Course Roger Ebert [Movie Review]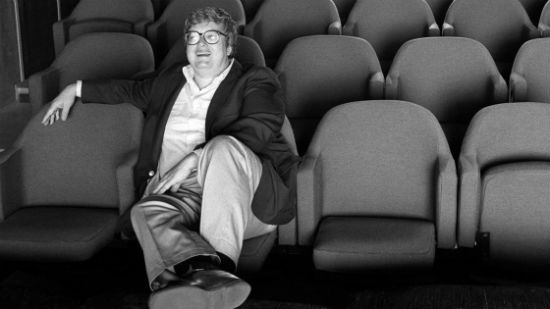 Editor's Note: The following review was originally published on January 20th 2014 after a screening at the Sundance Film Festival. The review is being republished as the movie is hitting theaters.
A movie about the life of a film critic might sound a tad indulgent, but there's never been another film critic with the influence and character of Roger Ebert. Almost anyone who's ever seen a movie in the US (and many other countries) has heard his name or taken one of he and partner Gene Siskel's patented "Two Thumbs Up" recommendations to the box office. As a young film fan, I remember scouring the TV Guide searching for the Sunday morning broadcasts of Siskel & Ebert, and devouring every episode. In particular, I'll never forget an episode where Ebert dissected Quentin Tarantino's camerawork in Pulp Fiction. It opened my eyes to a whole new world of film language. Ebert had that effect on a lot of people.
If Ebert opened up that world to people then Steve James' latest documentary Life Itself opens Ebert to the world. Based on Ebert's autobiography of the same name, the film tells Ebert's life story, yes, but it does so via the framework of our own love of the movies. Great care is taken to specifically illustrate not only how Ebert changed the face of film criticism, but how he helped us all discover our own passion for the movies.
Make no mistake though, this isn't some simple love letter. Life Itself is a warts and all dissection as well as a beautiful tribute. Issues such as alcoholism, struggles with weight, ego and sex are all part of his story. This is a vast, entertaining and thought-provoking look at Ebert the man and Ebert the icon.
Though it's based on an autobiography, James doesn't tell Ebert's story in a straight line. The film actually begins after Ebert's passing in 2013, then goes back to the start of filming in 2012, then back to his youth. This is how James begins to build empathy for Ebert, while also setting up the audience to learn about a man described by his own wife as "macabre." We see Ebert (who lost his ability to eat, drink or talk in 2006 due to cancer) being fed through a tube in his throat, going through intense physical therapy and inappropriately joking throughout the whole thing. Friends reminisce about long nights drinking, Ebert's suicidal tendencies, and even an incident with a hooker are discussed. James opens up Ebert's life in a way few have ever seen it.
Those biographical bits are then juxtaposed with Ebert's love of, and influence on cinema. Scenes from some of his favorite films, like Bonnie and Clyde or Cries and Whispers, are shown with excerpts from Ebert's review floated on top. Fellow film critics A.O. Scott and Richard Corliss discuss his contributions to the field and, eventually, we get to the TV show Siskel & Ebert.
The segments on the show allow James to break out one of the film's biggest surprises, a focus on Ebert's rival-turned-friend Gene Siskel. There are scenes of Siskel at the Playboy Mansion, on vacation with his family and eventually on the air with Ebert. The point being, one was the ying to the other's yang; the film showcases their relationship with plenty of their hilarious, signature arguments. One of the best is an episode where Ebert gives Full Metal Jacket a thumbs down, and Benji The Hunted a thumbs up, which infuriates Siskel.
To further illustrate the scope of Ebert's life, James turns to filmmakers like Martin Scorsese (also an exec producer on the film), Errol Morris, Werner Herzog and Ramin Bahrani to talk about what an Ebert review could do and what he meant to them as artists. These interviews turn into several funny and touching moments such as Ebert giving Bahrani an incredible memento just before his passing.
As good as almost every moment in the film is, every once in a while, one stands high above from the rest. In particular, there's a devastating moment where Ebert acknowledges his health is deteriorating and he likely won't get to see the final product we're currently watching. Rather than staying in that dark place, Life Itself goes on to show how Ebert turned his health into a positive motivator, pouring himself into online writing and becoming one of the leading voices in social media. The whole film is based around this kind of dichotomy and it leads to a rewarding emotional response.
To any lover of film, Roger Ebert was an icon. Steve James has made a film not only about that, but also about his humanity, his legacy, and his passion. Life Itself is a complete look at Ebert's incredible life that elicits laughs, tears and gasps. Most of all, though, it drives us to one particular phrase:
/Film rating: Two Thumbs Way Up