ABC Announces 'Toy Story That Time Forgot' Christmas Special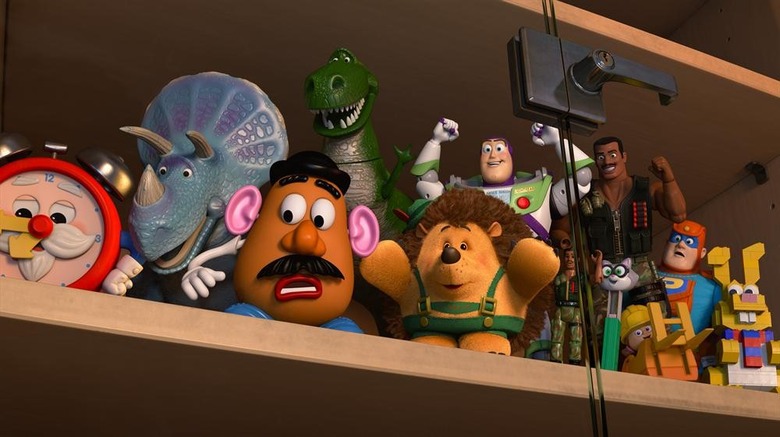 As of now, it's unclear whether Toy Story 4 is happening at all. And even if it is, the release is year away at least. But don't worry — that shouldn't stop us from logging some quality time with Woody, Buzz, and the rest of the toy box gang in the near future.
ABC has announced a new Toy Story TV special called Toy Story That Time Forgot, which will be Christmas-themed. Much of the original voice cast is expected to return. Get plot details and more after the jump.
Here's the official synopsis of the new show, from the press release (via Screen Crush):
During a post-Christmas play date, the 'Toy Story' gang find themselves in uncharted territory when the coolest set of action figures ever turn out to be dangerously delusional. It's all up to Trixie, the triceratops, if the gang hopes to return to Bonnie's room.
Reprising their roles for the special are Tom Hanks as Woody, Tim Allen as Buzz, Kristen Schaal as Trixie, Wallace Shawn as Rex, Timothy Dalton as Mr. Pricklepants, Don Rickles as Mr. Potato Head, and Joan Cusack as Jessie.
Additionally, Kevin McKidd (who previously played Lord MacGuffin in Brave) will play a new character named Reptillus Maximus. With a name like that, we're going to guess he's one of the crazy action figures mentioned above.
Helming this time around is Brave co-director Steve Purcell. Galyn Susman will return as producer, having previously worked on Toy Story of Terror and the short film Hawaiian Vacation. No release date has been announced, though it seems like a given that it'll launch sometime between Thanksgiving and Christmas.