Sequel Bits: 'Jurassic World', 'Naked Gun', 'A Haunted House 2', 'The Purge 2', 'Tekken'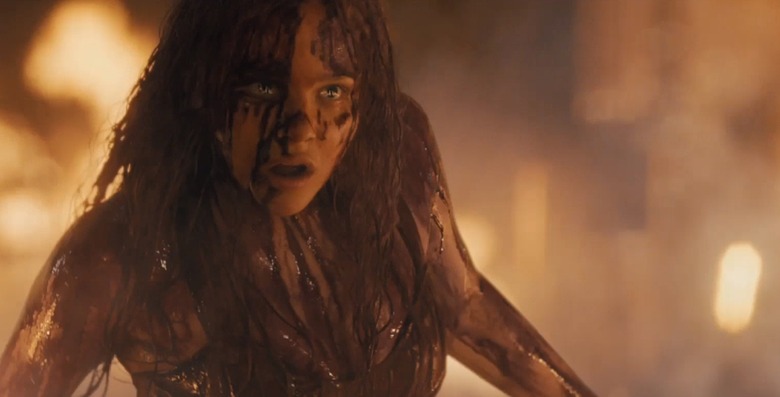 When we first reported on the Naked Gun reboot, we wrote that star Ed Helms was "the new Leslie Nielsen." As it turns out, that's not quite accurate. Hit the jump to find out the relation between Helms' character and Nielsen's. Also:
The Tekken prequel gets a title and a star
Brad Fuller offers plot details on The Purge 2
... and hints at a Jason-free Friday the 13th...
... and shuts down those TMNT alien rumors
Kimberly Peirce doesn't want more Carrie movies
Ron Howard confirms Chris Pratt for Jurassic World
Watch the A Haunted House 2 trailer at your own risk
HBO is already working on the Normal Heart sequel
The film now has an actual title, Tekken: A Man Called X, as well as a new star in the form of Kane Kosugi (DOA: Dead or Alive). It's unclear whether Ong-Bak helmer Prachya Pinkaew is still attached to direct, as he was a couple of years ago. Production will begin later this month for release sometime this year. [The Escapist]
The Naked Gun writer Robert Ben Garant would like you to know that his film is a reboot, not a remake, of the '80s original. "We're making it pretty clear that [new star Ed Helms is] not Leslie Nielsen," he said.
Indeed, though the characters share a name, they're not actually related at all. "Our take is that Ed Helms is Frank Drebin, no relation," explaind Garant. "That's how he introduces himself." But don't think they're ignoring the older films altogether, either. "We're very much embracing the style," Garant said. [Crave Online]
Although some horror sequels seem content with rehashing earlier films, The Purge 2 will differ from its predecessor in some pretty significant ways. "It's not a home invasion movie," said producer Brad Fuller. "This is you're out in the streets with people purging and a group of people who get stuck in the middle of it and have to get from point A to point B."
Since Ethan Hawke won't be involved this time around, the film has a new leading man in the form of Frank Grillo. Explained Fuller, "Frank's character is a grizzled guy who's on a mission and he's the strong, silent type who kind of discovers a misfit group of people who he helps out."
In the same interview, Fuller also touched upon another horror franchise his Platinum Dunes is working on. According to him, the upcoming thirteenth Friday the 13th movie may skip Jason Voorhes altogether.
"[...] I don't know if we're going to have Jason, I don't know which Jason we're going to have," he said. "I can tell you this: I love Derek Mears, I love working with him and he's a dream so we'd be lucky to have him."
Finally, anyone still upset over those alien rumors circling the Teenage Mutant Ninja Turtles can go ahead and put their pitchforks down. "No. They're not aliens," Fuller confirmed. "The turtles come from alien ooze so I think that it probably came from that, but our turtles are not aliens." [Crave Online]
Speaking of horror franchises, don't expect Kimberly Peirce's Carrie to launch one.
That was something that came up, the idea of Carrie two, three, four, five, six, seven and eight. I was very much against it. I think franchises and sequels are great, I don't see "Carrie 8." So no, my intention [with the closing shot] was not to say here's a sequel coming. My intention was simply to get out of the scene in a way that didn't leave you falling off a cliff. And in fact, if you get the DVD/Blu-ray there's an alternate ending which, I think is a better ending, it's a different ending. It's a little more tidy, a little more shocking and a little more dangerous. Certainly the ending in the theatrical release, it wasn't intended for a sequel.
Of course, the fact that Peirce didn't intend for Carrie to keep going doesn't mean it won't. And with a worldwide gross of $80 million on a $30 million budget, we wouldn't be entirely shocked if Screen Gems decided to keep the story going against her wishes. [The Playlist]
You can count on seeing Chris Pratt and Bryce Dallas Howard in Jurassic World. The actress' father, director Ron Howard, tweeted a photo of the future co-stars on the Globes carpet.
Bryce and Chris meet for the 1st time on red carpet they will be co-stars in next Juraissic pic.twitter.com/Pu1nUI9SNG

— Ron Howard (@RealRonHoward) January 13, 2014
Mr. Howard is not directly connected to Jurassic World, and the studio has not officially announced the actors' casting. Still, the fact that he's tweeting about it at all suggests it's a done deal, or at least very very close to it. [via Collider]
A Haunted House made about $60 million worldwide last year, which doesn't sound like huge business until you consider the budget: a paltry $2.5 million. So Open Road is back this year with A Haunted House 2, which once again sees Marlon Wayans trying to get away from vindictive spirits.
I never saw the original A Haunted House, but I did see the trailers... and is it just me, or does this actually kinda look better than those did? Either way, the new film opens March 28. [Yahoo]
HBO is so confident in Ryan Murphy's The Normal Heart, it's already planning the follow-up. The network has already commissioned a script by Larry Kramer, who wrote both the upcoming movie and the play it was based on. Murphy is expected to helm once again.
While the original story depicted the beginning of the HIV/AIDS crisis in early '80s New York, the sequel will start in 1987 and go through the 1990s. At the center of the story will be Ned Weeks (played by Mark Ruffalo in the first film), who becomes an HIV/AIDS activist. [Deadline]