'Her' Behind The Scenes Featurette And Photos, Plus 'Him', The Parody Sequel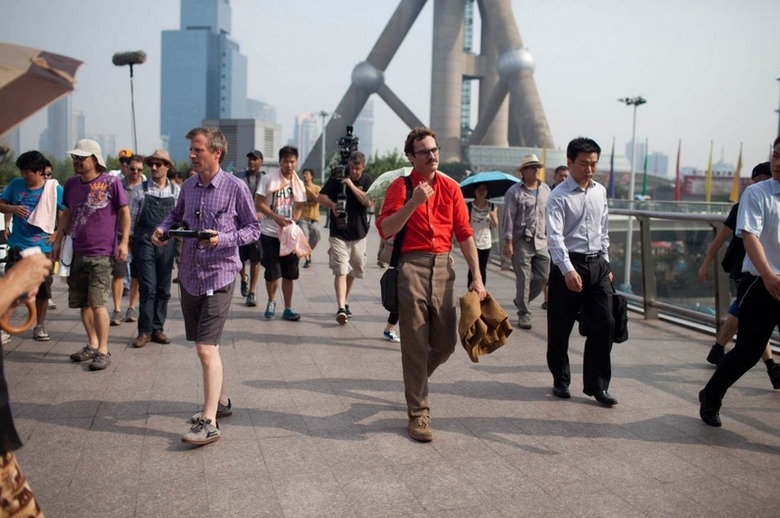 Much attention has been paid to Joaquin Phoenix and Scarlett Johansson's exceptional performances, Casey Storm's eye-catching costumes, and Spike Jonze's eloquent script, but the  soundtrack for Her – from Owen Pallett, Arcade Fire, Karen O., and others — deserves some love too. Happily, the latest behind-the-scenes featurette spotlights one particularly lovely instrumental track, playing it over film footage and behind-the-scenes clips.
The feel of that particular video is wistful and bittersweet, but one of the best things about Her is that it's also got a great sense of humor. Jonze seems to know exactly how seriously to take the film's far-fetched conceit. But if he'd taken things a step further into comic side, he might've come up with something like Him, a parody sequel that imagines a woman falling for her operating system.
Watch both the Her featurette and the fake Him trailer after the jump.
The voiceover here serves as yet another reminder of how great Johansson is in this film. Her performance doesn't suffer at all from being voice-only, and she feels every bit as warm and alive as if we'd been able to actually see her.
Sadly, there aren't any details yet on an official soundtrack release. But if you'd like to check out some of the artists who contributed to Her, The Playlist has a list of tunes from the film. As a bonus, here are some behind-the-scenes photos from W Magazine.
And now that we've sighed and swooned over the lovely Her, it's time to laugh at it a little. That's What's Up Comedy put together a little trailer titled Him, which imagines what might happen if the male and female roles were reversed. And if the world were a little less warm and fuzzy than the one Jonze imagined — which is to say, a little bit more like ours. 
In the movie, Theodore's pal played by Amy Adams is open-minded and understanding when he tells her he's dating an OS, but in reality I'm betting most of us would react like the guy in this video: "Why would you do that?"
Her is in theaters now.