'Muppets Most Wanted' Awards TV Spot Skewers Inane Online Comments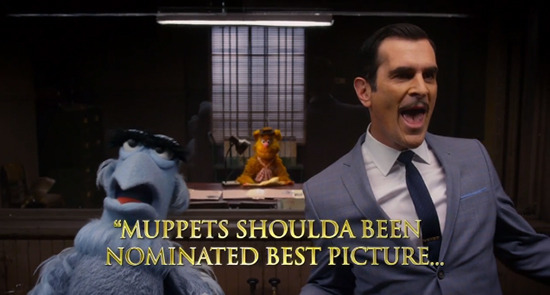 The marketing team working on Muppets Most Wanted is having just as much fun with the film for this ad campaign as they did with the one for 2011's The Muppets. Instead of cutting ads that parody trailers for other films, the object of amusement this time is online comments and the act of using random tweets as ad fodder. That's all you really need to know before diving in; if you missed the spot during the Golden Globes last night, check it out below.
Muppets Most Wanted is directed by James Bobin and produced by David Hoberman and Todd Lieberman. Bobin wrote the screenplay with Nicholas Stoller, who is also executive producer with John G. Scotti. Songs are by Bret McKenzie. It opens on March 21.
Disney's "Muppets Most Wanted" takes the entire Muppets gang on a global tour, selling out grand theaters in some of Europe's most exciting destinations, including Berlin, Madrid, Dublin and London. But mayhem follows the Muppets overseas, as they find themselves unwittingly entangled in an international crime caper headed by Constantine—the World's Number One Criminal and a dead ringer for Kermit the Frog—and his dastardly sidekick Dominic, aka Number Two, portrayed by Ricky Gervais. The film stars Tina Fey as Nadya, a feisty prison guard, and Ty Burrell as Interpol agent Jean Pierre Napoleon.