'Outlander' Trailer: Ron Moore's Other New Show Is A Time-Traveling Romance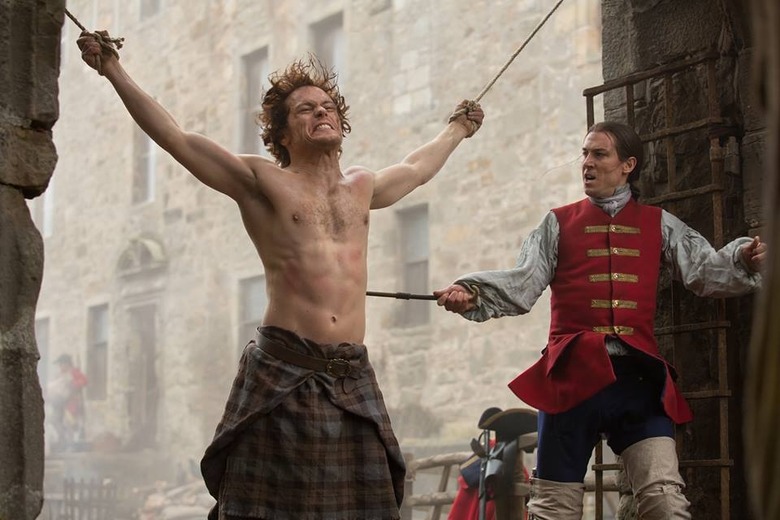 Syfy's Helix has been getting all the attention lately, mostly because it just premiered a few days back, but it's not the only treat Battlestar Galactica showrunner Ronald D. Moore has in store for us this year.
This summer will see the premiere of Starz's Outlander, based on Diana Gabaldon's series of novels about a World War II nurse (Caitriona Balfe) who's whisked back in time to 18th century Scotland. The first trailer has finally arrived, and you can check it out after the jump.
The trailer promises plenty of romance, action, and fancy period costumes, but doesn't reveal much about the actual plot. So here's a synopsis from the network's website.
Outlander follows the story of Claire Randall, a married combat nurse from 1945 who is mysteriously swept back in time to 1743, where she is immediately thrown into an unknown world where her life is threatened. When she is forced to marry Jamie, a chivalrous and romantic young Scottish warrior, a passionate affair is ignited that tears Claire's heart between two vastly different men in two irreconcilable lives. Outlander spans the genres of romance, science fiction, history, and adventure into one epic tale.
Tobias Menzies (Catelyn's inept brother from Game of Thrones) plays the 1945 husband, and Sam Heughan the Scottish warrior one.
Frankly, that plot description seems lifted off the back of an especially cliche-ridden romance novel. But Gabaldon's series has gotten rave reviews, including from folks who aren't normally drawn to books with long-haired, bare-chested Fabios on the cover. And the promo looks promising, too. It's got a slight Game of Thrones vibe to it, but isn't so similar that it feels like a knockoff.
In fact, Moore cited the HBO hit as one of his influences for Outlander.
It's definitely opened that door and showed that fantasy and genre material has a strong audience on premium cable. They also showed you can take an existing readership and turn it into an audience and then broaden that audience. We don't think of ourselves as their competition because they won that corner of the world and they do what they do amazingly well. We want to find our own different space.
Starz has yet to announce a premiere date for the show.