'Veronica Mars' Poster: "...But They Pulled Her Back In"
The Veronica Mars following was never huge, but it was devoted. Enough so that several years later, they were able to raise millions of dollars to make the sequel happen. But now that the film is a reality, is it likely to draw in any new fans, or is this strictly for the Marshmallows among us?
While Rob Thomas would no doubt love to grow his fanbase, the marketing so far has been aimed directly at existing fans, with cameos and in-jokes only a true Marshmallow could love. Today's brand-new poster isn't much different. Check it out after the jump.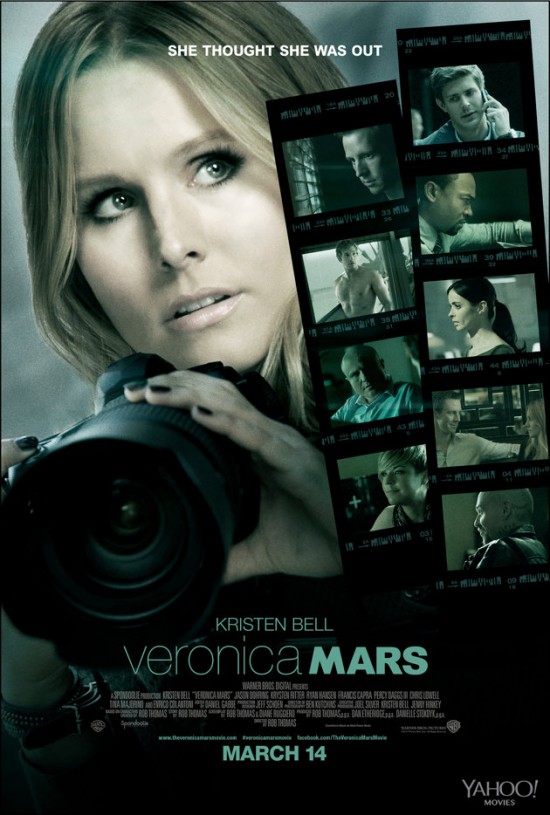 It's a simple poster, but it's got everything a fan could want: shots of Wallace (Percy Daggs III), Keith (Enrico Colantoni), Mac (Tina Majorino), and Weevil (Francis Capra), a shirtless photo of Dick (Ryan Hansen), and, yes, even a sweet LoVe moment. Piz (Chris Lowell) doesn't stand a chance. Hopefully.
But a non-fan probably won't get much from it. Kristen Bell is an appealing presence, and her co-stars are certainly attractive, but the posters reveals nothing interesting about any of these people. And the tagline — "She thought she was out" — is generic to the point of groaning.
Similarly, while Marshmallows may smile at the sight of Veronica and Logan (Jason Dohring) together again in these new stills, the uninitiated will likely only see that Bell looks gorgeous as usual.
As previously reported, the new film sees Veronica, now a hotshot lawyer in New York City, returning to Neptune to help her ex-boyfriend Logan after he's accused of murdering his pop star girlfriend. Her visit just so happens to coincide with her high school reunion, offering Thomas plenty of opportunity to work in supporting characters from previous seasons.
Veronica Mars premieres at SXSW before hitting theaters March 14. Can't wait that long for your Veronica fix? Log on to Amazon to stream all 63 original episodes right now.