Watch Five Vine Teasers From 'Game Of Thrones' Season 4; Trailer To Premiere Sunday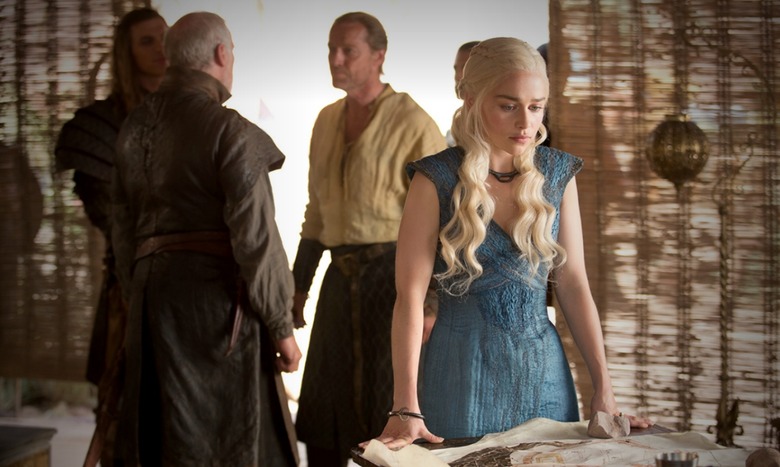 We know, we know. The "teaser for a teaser" trend is getting out of hand. But after the epic, blood-soaked insanity that was Season 3 of Game of Thrones, we can't help but latch on to whatever we can get of Season 4. And right now, that means we're poring over these five action-packed Vines.
The brief clips feature fan favorite characters like Tyrion (Peter Dinklage), Daenerys (Emilia Clarke), and Jon Snow (Kit Harington), along with new character Oberyn Martell (Pedro Pascal), in various degrees of peril and/or badassery. The full trailer won't premiere for another couple of days, but for now you can watch the snippets after the jump.
The Vines are all so short and quick, it's tough to get a sense of what's actually going on in any of them. Who's Jon fighting? Why is Tyrion in shackles? What has Daenerys so worried? And what's up with this Oberyn Martell fellow? But of course, not knowing is part of the fun. (For non-readers, that is. For book-readers, part of the fun is smugly watching your non-reader friends' heads explode after every shocking twist.) For now, these snippets seem to back up Harington's promise that Season 4 will "kill more people than we've ever killed." Which, yikes.
The next ten-episode season will pick up shortly after the events of Season 3, and will cover roughly the second half of George R.R. Martin's novel A Storm of Swords. New cast members this season include Roger Ashton-Griffiths (Mace Tyrell), Mark Gatiss (Tycho Nestoris), Michiel Huisman (Daario Naharis),  Hafþór Júlíus Björnsson (Gregor Clegane), and Dean-Charles Chapman (Tommen Baratheon).
Game of Thrones returns to HBO on Sunday, April 6 at 9:00 PM. Tune in at 8:58 PM this Sunday, January 12 for the first full trailer ahead of the True Detective premiere.